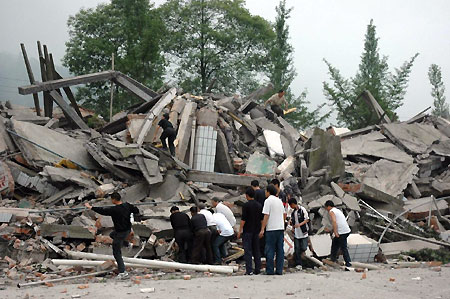 In this file photo taken in May 2008 people rescue students from the rubbles of collapsed Yinghua Middle School in Shifang, southwest Chinas' Sichuan province. Eighty people were killed when the school collapsed. The German Embassy School in Beijing has established a partnership with the school. [chinadaily.com.cn]
"When we published an appeal for funds, we received calls from hundreds of Germans from all over China and even from Germany," Gong-Fleischer says. As there hadn't been a bank account for the donations available in the beginning, people came to the embassy in person to give some money. She is still impressed by the signs of solidarity she experienced: "People collected money in their families and at work. In the German city of
Mannheim
a university professor spontaneously organi
z
ed a charity concert in a city park. Children robbed their piggy bank and donated their savings."
Related readings:


Sichuan, One Year On...
Related readings:


 Beichuan's ruins left by Wenchuan Earthquake

Sichuan Earthquake documentary gets 1st anniversary telecast


Life resumes normal after last May's earthquake


Rebuilding the school and hope after the earthquake


Quake-destroyed school rebuilt with aid from Air Force


Beichuan middle school to start reconstruction

So far, computers and new school uniforms could
have
been bought from the collected money. A large part of it will still be used to equip the new library. About 600
,
000 yuan have been collected until now. "That's not a huge amount compared to the donations of big companies, of course," Gong-Fleischer says.
"But the special thing about our initiative is that thousands of people contributed with their own savings and work force – and this support will go on."
Former German chancellor Gerhard Schröder showed himself very enthusiastic about this voluntary initiative and expressed his best wishes when he got to know of it during one of his still regular visits to China, says Gong-Fleischer.
A continuation of charity events for the Yinghua Middle School is planned as well as a student exchange with the German Embassy School on a regular basis. "The German and the Chinese pupils can learn a lot from each other," Gong-Fleischer says.
After the collapse of the school building the Yinghua pupils had had classes in tents for some weeks, before provisory cottage classrooms were erected. The reopening for Yinghua Middle School is scheduled for September. It will have 1,200 pupils then – three times as much as before the earthquake.
German speakers who want to contribute to the Yinghua Middle School project of the German Embassy School in Beijing can find more information here: www.dspeking.net.cn/umfeld/projekt_sichuan/index.asp