CHENGDU -- Damage to wild panda habitats in the quake-hit Sichuan province would affect breeding by the endangered species, although captive pandas' numbers were expected to increase this year, officials said Friday.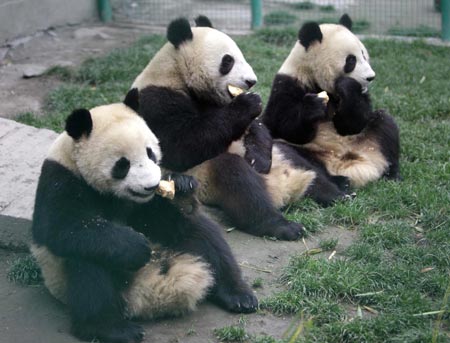 Three giant pandas eat at temporary resettlement area in Wolong, southwest China's Sichuan Province. [Xinhua]
"Wild pandas must store energy before moving to higher altitudes for reproduction between March and July, but most of the bamboo plants in the habitats were buried in the quake, making it difficult for wild pandas to find food," said Zhang Hemin, director of the China Giant Panda Protection and Research Center in the Wolong nature reserve. "This will affect their  reproduction.
"We are worried the birth rate will decrease this year," he said.
Related readings:


 China to build new panda breeding center


 New panda center to be built in quake zone


 Quake-hit panda base to be rebuilt


 Quake-hit panda reserve awaits Hong Kong aid
To provide more food for wild pandas, the local government plans to move residents out of Wolong and plant more bamboo, but Zhang said it would take at least five years to reach a satisfactory vegetation level.
Wolong nature reserve is home to about 150 wild pandas, about 10 percent of China's total.
Experts are monitoring the pandas with infrared cameras. Research showed forested areas 2,500 meters above sea level, the core of the wild pandas' habitat, were only slightly damaged.
"Pandas there are living well," Zhang said.
He said the captive pandas are expected to recover from the trauma in the quake and give birth to more young this year.
"I'm not sure how many pandas will be born this year, but I'm confident the number will be larger than that of last year, which was 13," he said.
The 8.0-magnitude quake last May left one panda dead, one injured and another one missing. After the quake, most of the captive pandas in the reserve were moved to the Bifengxia breeding base in Ya'an City and some zoos elsewhere.
Only six pandas, each about 18 months old, are living in prefabricated houses in the reserve.
Construction of a new China Giant Panda Protection and Research Center will start before August. The new base, also in Wolong, will be located in the Huangcaoping area, about 10 kilometers from the old site, Zhang said.
"We selected Huangcaoping because the environment, water, weather and geological situations there are the best. The pandas will be comfortable living as it is not far from the former base."
The state-level protection and research center was built in 1980. As the world's largest breeding center for the endangered species, it has 142 captive pandas, comprising 60 percent of the world's total.