A national museum featuring the destruction of Beichuan county in Sichuan province in the 8.0-magnitude earthquake on May 12 last year will open in four years.
The College of Architecture and Urban Planning of the Shanghai-based Tongji University made the construction plans, passed by experts.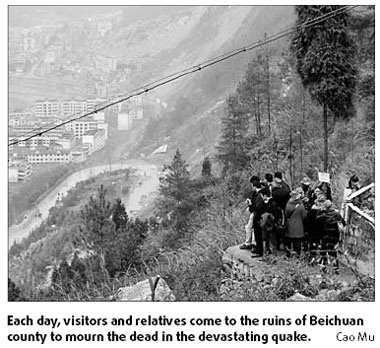 The 2.3 billion-yuan museum, spread over 27 sq km, is expected to be completed in four years. The exhibits will include ruins of the Beichuan High School, the Beichuan county seat and the Tangjiashan Earthquake Lake.
The earthquake dealt a heavy blow to Beichuan, the country's only Qiang autonomous county. Of the nearly 70,000 people who died across China, 15,645 were from Beichuan county where 4,300 were missing and 26,916 wounded. More than 80 per cent of the buildings in the county seat were destroyed, said Beichuan party chief Chen Xingchun.
To protect the ruins in Beichuan destroyed by the largest earthquake since the founding of the People's Republic of China in 1949, local authorities in the city of Mianyang, which has Beichuan under its administration, have decided to rebuild the county seat of Beichuan in nearby Anxian county, also under Mianyang's administration.
More than 1,000 students died in Beichuan High School, 2 km from the county seat, which became the seat of many heroic tales related to quake relief.
The Tangjiashan Earthquake Lake is the largest of the 34 lakes formed by the earthquake.
The museum will preserve memories of the disaster, show the strength of human love and man's new understanding of nature, said professor Wu Changfu of the College of Architecture and Urban Planning at Tongji University.
He spent nearly six months leading an expert panel engaged in planning the museum's construction.
The museum, which would be of great value for seismic studies and research into the design of anti-seismic buildings, will serve as a guidebook on earthquakes, said Peng Jinchuan, senior engineer of Sichuan Seismological Bureau and chief of a national expert panel for the protection of the ruins of the May 12 earthquake.