YINGCHUAN, Sichuan -- A woman in her 60s was rescued at about 6:50 p.m. on Tuesday from a rock crack in Pengzhou, southwest China's Sichuan Province, more than 195 hours after the May 12 earthquake.

She had lived on rainwater since then and was conscious when rescuers found her, Phoenix TV reported.
Earlier Tuesday, Ma Yuanjiang, a power plant executive, was rescued at around 00:50 am  from the rubble in Wenchuan County of southwest China's Sichuan Province, nearly 179 hours after the May 12 earthquake.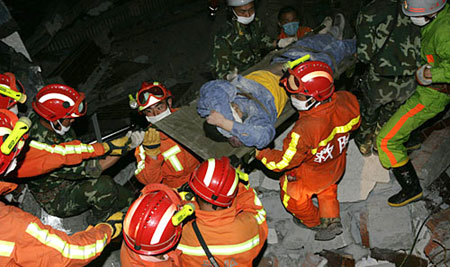 31-year-old Ma Yuanjang is rescued and carried to an ambulance by rescuers after he was trapped for about 179 hours in the rubble of a power plant, toppled in the May 12 powerful earthquake in Yingxiu, a town in Wenchuan, May 20, 2008. [Xinhua]
He was surprisingly able to speak after being rescued, and shortly after he began to eat a little, said Wu Geng, Ma's colleague and also head of the plant, who was at the rescue spot.
Ma was at a meeting when the magnitude 8.0 earthquake ravaged the plant office building, and he was trapped in the debris of the second floor, which has presented huge difficulties for rescuers.
The 31-year-old survivor was pulled out by a Shanghai rescue team from the debris of an office building at a flattened power plant, after more than 30 hours' efforts.
Rescuers found Ma in the afternoon on May 18 when they were digging a hole trying to reach Yu Jinhua, a colleague of Ma.
Followed by an amputation operation, Yu was rescued at about 6:00 p.m. on May 18. Rescuers then turned to Ma and sent sweetened water to him through a straw.
Ma was receiving treatment at the temporary clinic of the Chongqing No. 3 Military Hospital, and will be sent by air to a hospital in Chengdu.
Ma, who is a power generation department deputy director of the Yingxiu Bay Hydro-Power Plant, is the only survivor saved so far on Tuesday.
Around 4:30 pm Monday, a man named Peng Guohua was saved 170 hours after the tremor, and was in a stable condition, military sources said Tuesday.
Peng was transferred to a military medical team stationed in the Anxian County of Mianyang City at 4 am Tuesday for medical treatment, and is currently in a stable condition, the military sources said on Tuesday.
Chances of survival are getting remote as a week has passed since the earthquake. Although challenged by continuous aftershocks, rescue operations are still proceeding, and dead bodies are promptly disposed of to prevent epidemic.
The Chinese health, police and civil affairs authorities said police and medical workers will keep record of the unidentified bodies and collect body tissues for DNA tests. The police will manage the DNA database for future identification.
Rescuers disinfected and took photos of the bodies before burying them. A brigadier from the Jinan Military Area Command said the photos will be collected and sent to local civil affairs office for reference.
"We took 30 cameras with us when we came for the rescue," said Tang Yanfeng, a brigadier leading rescue work in the Pengzhou City, one of the worst-hit areas in the earthquake.
"Some people may never have a chance to see the bodies of their families, and we hope it'll be a comfort to those if they could see their last photos," he added.
Nationwide, the death toll from the quake rose to 34,073 as of midday Monday, while 245,108 people were injured.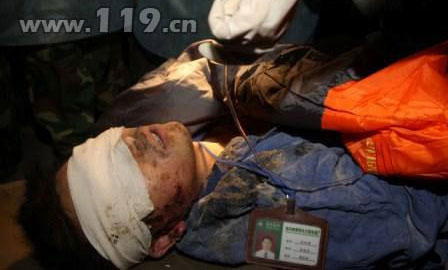 Ma Yuanjiang, the 31-year-old survivor, is saved by a Shanghai rescue team from the debris of a flattened power plant, May 20, 2008. [chinanews.com.cn]