73 hours: Kept alive by mother's love
Driven by a mother's love for her son, a 46-year-old quake victim in Beichuan amputated her own leg and drank her own blood to hold out for 73 hours under rubble before being rescued.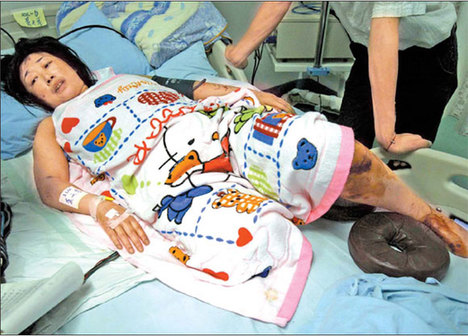 Before her ordeal, Gong Tianxiu was known as a faint-hearted person who did not dare sleep alone.
The risk manager of the Agricultural Bank of China's Beichuan branch was at home with her husband when the earthquake struck on May 12. The building collapsed before they had time to take cover in the bathroom.
Gong's husband protected her from debris by shielding her closely with his body. Before he died, he told Gong to be strong, and to guide their son Wang Tao, who graduated from a university last year, in life.
A large cement slab had fallen onto Gong's right leg and she was bleeding badly. She kept calling for help, but no one answered.
"I wanted to die at that time, but when I remembered what my husband had told me, I thought I should live on," she said.
To stay alive, Gong pounded her own leg with a brick and drank her blood, which had to flow through her husband's back before reaching her mouth.
The next day, Gong's company director came to the disaster site and finally heard her call for help. The cement slab weighing on her was too big to be moved by rescuers, but they fed her water through an opening in the debris.
On the third day, firefighters arrived and cleared the debris, but they did not move the cement slab for fear of it collapsing further.
Gong told a rescuer that her lower right limb was jammed under the rubble and was nearly severed from her thigh.
She asked him to bring a saw and amputated her right leg with it.
"I was desperate. I did it for my son. As long as I can still see him and look after him, I'm satisfied. My son is my hope. He is my husband's hope," she said.
Gong is being treated at a hospital in Mianyang. Doctors said her condition is stable.
Her son also arrived in Beichuan from Chengdu on the third day of the quake.