BEICHUAN, Sichuan  -- A woman was rescued here on Monday morning after being trapped under the rubble for 164 hours, following the May 12 earthquake.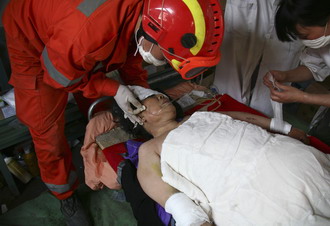 Li Ningcui, 61, receives medical treatment after being dug out by rescuers from the rubble of a collapsed market about 164 hours after an earthquake that struck a week ago in Beichuan, Sichuan province, May 19, 2008. [Agencies]
Rescuers found 61-year-old Li Mingcui at 9:48 a.m. under the remains of a bazaar in Beichuan County, one of the worst-hit counties in southwest Sichuan Province.
The rescuers pulled her out at 10:42 a.m. and sent her to the nearest medical camp and then to a military hospital in Mianyang city.
She had suffered serious dehydration and showed symptoms of electrolyte disorder as well as liver and renal failure, according to doctors with the military hospital who were treating her.
She also had multiple rib and shoulder blade fractures, and her left lung was injured, doctors said.
"It was a miracle of life," said Zeng Jun, head of the medical camp. "After hours of emergency treatment, Li showed normal signs and can answer simple questions."
She would have surgery when her condition stabilized, doctors said.
"We had lost hope of finding my parents," said her son Zhao Jun, who rushed to the hospital after learning the good news on TV.
He and his wife Lin Juan had been in Beichuan two days earlier to search for their parents but gave up after seeing that the seven-floor building they lived in had been flattened.
"She is an ordinary old lady and not in good shape. She sees doctors several times a year and wears socks and sweaters to bed, even sometimes in summer," the son said. "I never thought she could survive."
Zhao's father is still missing, but he said he had hopes now since his mother's survival.
The rescue team is still searching for survivors among the ruins at Beichuan, said Li Hongguo, head of the rescue team sent by the China Seismological Bureau.