WASHINGTON: Both China and the United States have attached great importance to the first ever China-US Strategic and Economic Dialogue (S&ED), which kicked off on a high note in the US capital on Monday.
Chinese President Hu Jintao and US President Barack Obama have pinned high hopes on the July 27-28 dialogue, a mechanism upgraded from the previous Strategic Dialogue and biannual Strategic Economic Dialogue initiated in 2005 and 2006 respectively.
Chinese, US leaders pin high hopes

President Hu sent a congratulatory letter to the S&ED, which was read at the opening ceremony by his special representative, Chinese Vice Premier Wang Qishan. Wang and Chinese State Councilor Dai Bingguo, both co-chairing the dialogue on behalf of the Chinese president, are leading a large delegation of some 150 senior officials, 24 of them at or above the ministerial level.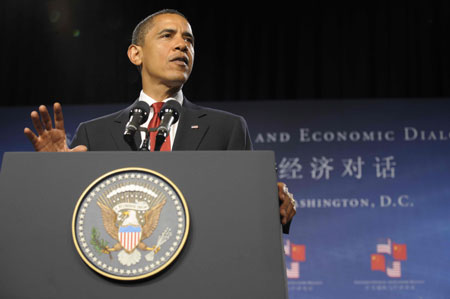 US President Barack Obama addresses the opening ceremony of the China-US Strategic and Economic Dialogue (S&ED) at the Ronald Reagan Building and International Trade Center in Washington, on July 27, 2009. [Xinhua]
Hu said in his message that both countries shoulder important responsibilities on a host of major issues concerning peace and development of mankind, adding that in the face of the complex and changing international economic and political situation, China and the United States should endeavor to expand common ground, reduce differences, enhance mutual trust and strengthen cooperation through the strategic and economic dialogue.
"This serves the common interest of the two sides and will help advance the positive, cooperative and comprehensive relationship between our two countries," said the Chinese leader.
Full Coverage:


 China-US S&ED
Related readings:


 China, US vow to seek better ties


 Trade tops agenda of China-US dialogue


 US, China urged to work closer on regional security


 Sino-US S&ED begins in Washington

 China hopes US will cut budget deficit
"It is also of great importance for peace, stability, development and prosperity of the whole world," he added.
"I am confident that with the concerted efforts of both teams, the S&ED mechanism will keep improving and growing and inject new dynamism and make new contribution to our mutually beneficiary cooperation in various areas and to the growth of our positive, cooperative and comprehensive relationship," said Hu.
President Obama addressed the dialogue's opening in person, elaborating on an array of issues, ranging from the financial crisis, security and climate change. He also stressed the importance of cooperation between the two countries.