KUALA LUMPUR: Pos Malaysia Bhd issued special commemorative covers to mark the 35th anniversary of the establishment of Malaysia-China diplomatic relations,the Star online reported on May 29.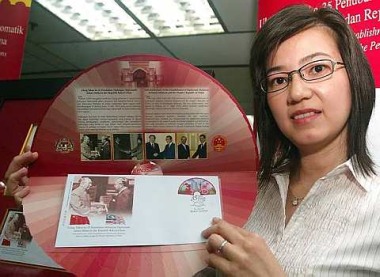 Pos Malaysia assistant manager Siew Ching showing the commemorative cover and its fan-shaped folder during a press conference in Kuala Lumpur on May 28.[the Star.com.my]
The limited edition of 100,000 covers is available at RM2 each and bears a 95 sen stamp, the postage rate for a letter to be sent to China.
"Stamp collectors can purchase it at post offices this Sunday in Perlis, Kedah, Kelantan and Terengganu; Sabah (June 2), Sarawak (June 3); Klang Valley and other states on Monday, June 1," stamp and philately unit head Yasmin Ramli said.
Yasmin told a press conference yesterday that the picture on the cover was taken 35 years ago and the stamp was in the shape of a fan with images of the tallest towers in Malaysia and China, besides their national flowers.
The commemorative cover, she said, was a valuable collector's item and would serve as a symbolic memento of the friendship between China and Malaysia.