SHANGHAI: Construction companies and local authorities have come under fire after a big rupture was spotted in a main bridge that runs across one of the city's waterways on Monday, barely two weeks after similar damage was found in a bridge in Jiangsu province.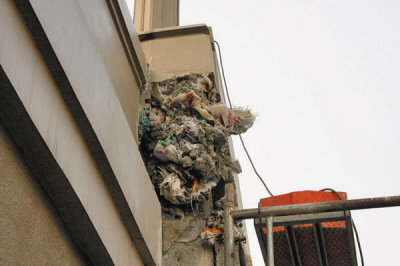 A mixture of garbage including plastic bags and foam used to fill part of a major bridge over Shanghai's Suzhou Creek spills out of cracks on Monday. [Yun Qing]
Large chunks of concrete have fallen off one of the piers of the Henan Road Bridge, one of the busiest across the Suzhou Creek, opening up a crack about 4 m in length.
The bridge was renovated less than a year ago.
What provoked the city's residents further was the fact that authorities tried to fill up the crevice with construction rubble, including plastic foam and leather bags.
Workers were spotted repairing the bridge yesterday, even as all efforts to get a comment from Shanghai Foundation Engineering Co. Ltd, the company that built the bridge, failed.
The Shanghai Urban Construction and Communications Committee, which oversees the city's construction quality, said that the structure of the bridge is safe and there are no potential safety hazards.
Traffic flow on the bridge has not yet been affected by the damage.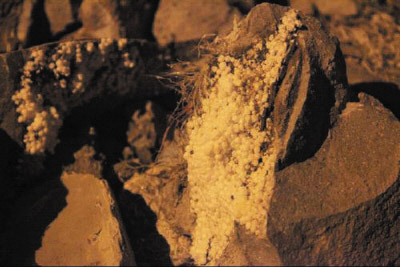 Foam used to fill part of a major bridge over Shanghai's Suzhou Creek spills out of cracks on Monday. [people.com.cn] 
The committee said the crack was caused by the "subsidence of the earth-retaining wall" and only the surface decoration of the bridge required repairs.
But the assurance failed to appease local residents and construction experts, who pointed out that quality was being overlooked in China's race to construct, and there needs to be more supervision from the local authorities.
"It's against reason to use construction rubble for fillers within the pier if it is supposed to bear the load of the bridge," said Zeng Minggen, deputy director of the Department of Bridge Engineering at Tongji University.
"I think the construction company must have failed to do what the project design required in order to either meet the deadline or cut costs."
He added quality was an issue with many construction projects in China, as they are "usually rushed ahead to meet both deadlines and budgets".
"The problem lies not only with the construction companies, but also with the design and supervision parties who fail to do their part. Authorities need to strengthen regulations," he said.
The Xinmin Evening website cited a nearby resident as saying that the rift on the Henan Road Bridge had been discovered nearly half a year ago and that he is concerned about his safety every time he goes past it.
"What I couldn't understand is why a bridge renovated only less than a year ago would develop cracks," he said.
Earlier this month, a bridge in Nanjing, Jiangsu province, developed numerous cracks, which authorities later pasted with glue, raising many eyebrows.