Brutal killings in suburban Beijing raise questions over mental health, report Cao Li, Hu Yongqi and Peng Yining
Two cold-blooded murders, both involving suspects who may be suffering a mental illness, have rocked the small community of Daxing, a suburban district of Beijing.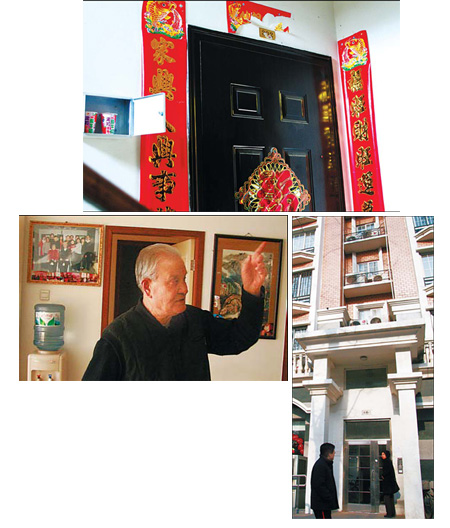 Clockwise from top: Two cartons of milk stand untouched outside the door of the Zhang family home in Daxing district. Residents in the same neighbourhood community walk past the tower block where the murders took place. Zhou Shangqin, 80, who lived below the Zhang family, recalls what he heard the night Tian and her son were killed. [Photos by Feng Yongbin]
The latest incident happened on Sunday morning when police detained Zhang Wuli after finding the bank worker's wife and 10-year-old son dead. Just a month earlier, Li Lei, a restaurant owner, is alleged to have slaughtered six relatives, including two children, in the same apartment block in Huangcun village.
Li, 29, has been charged with murder and Zhang, 38, is still in detention while detectives investigate the crime scene. However, in both cases police were quick to release information suggesting the men suffer some form of mental illness.
It has in recent weeks led to a rash of media reports about the potential dangers people with mental illness pose to society.
But exactly how serious is the issue of mental illness in China?
According to Shan Huaihai, a psychiatrist of the Xuhui District Mental Health Center in Shanghai, the issue is very serious and he warned that, although the number of people with mental health problems in the country has increased, China still has no efficient system to address it.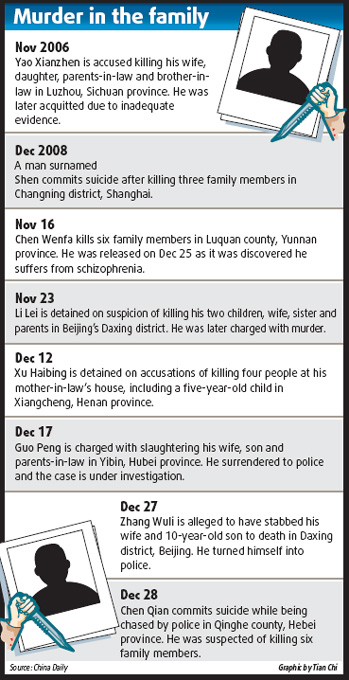 In his 30 years of practice, Shan said he sees more patients every year and most towards the end of the year. He treated about 40 patients a day in early 1980s - now it is more than 100.
"In 1980s, most people were still suffering problems following the "cultural revolution" (1966-76), as well as the social changes brought by the opening up and reform policies," he said. "Now, the possible causes of mental illness could be a many."
The term mental illness covers a wide spectrum of conditions, from mild depression to schizophrenia, and many experts say these conditions can often be triggered by serious mental trauma.
The Lancet, the world's best-known medical journal, in July published the results of a survey that included more than 63,000 adults in the provinces of Shandong, Zhejiang, Qinghai and Gansu. It showed about 17 percent of respondents had suffered some mental trauma within 30 days of the poll.
The results suggested as many as 173 million in China could be suffering some form of mental trauma, with less than 158 million expected to receive treatment.
In 2007, the Beijing municipal authorities brought in rules stating that the details of anyone who is checked into a mental health hospital is passed to city health bureaus so patients can be tracked to ensure they receive proper care. In some cities, there are also rules stipulating hospitals must report a patient who demonstrates violent tendencies to the police.
"But these rules are not being carried out very well, and still there is no national law to regulate mental health mechanisms," said Shan.
According to media reports, Zhang told police during interviews that he attempted to receive treatment by admitting himself voluntarily into the Daxing Mental Disease Hospital. A source with the hospital president's office, who declined to give his name, told China Daily that Zhang had never been hospitalized at the clinic, saying "there is no record of him".
The Beijing Rural Commercial Bank worker, whose neighbors said had spent 1.4 million yuan ($200,000) to buy his apartment less than a year ago, is alleged to have used a fruit knife to stab his wife Tian, 37, to death before killing his sleeping son, Xiaoxuan.
Zhou Shangqin, 80, who lived below the Zhang family, recalled he heard Zhang's wife shouting and screaming at about 4 am. After about 15 minutes, the screaming stopped.
An anonymous source told Beijing Times that Zhang dipped his fingers in his wife's blood and used it to write wei le renmin, or "for the people", on the wall before calling the 110 emergency services hotline at 6 am. He was waiting for police when they arrived, authorities said.