The central government is set to stop the decades-old practice of hepatitis B (HB) screening in pre-enrollment/employment medical examinations to root out widespread discrimination against millions of carriers in the country.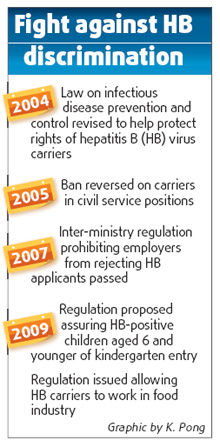 Mao Qun'an, spokesman for the Ministry of Health, said an inter-ministerial regulation will stipulate school and job applicants will no longer need to test for HB before enrolment or employment - a requirement which has been in place since the early 1990s.
But he declined to specify when the regulation would come into force.
However, for high-risk occupations like in blood collection centers, the test would remain as an enrollment condition for the sake of public health, he noted.
Related readings:


 Hospital chief sacked over hepatitis infections


 19 hepatitis infections confirmed in Anhui


 Hepatitis B carrier gets OK to work in food industry


 Hepatitis carriers fight job discrimination

"Health institutions face punishment if they are found administering HB tests to education applicants or job candidates for ordinary professions," he said.
Currently, more than 100 million people in China are infected with the HB virus, which the WHO says is transmitted only through blood transfusions, sexual contact or childbirth.
Hepatitis B is a potentially life-threatening liver infection caused by the hepatitis B virus.
Despite constant government efforts, many still suffer groundless discrimination and even rejection in social life, particularly in education and employment, experts said.
"The discrimination is rife mainly because of a lack of knowledge, and is unfair for sufferers and leads to a waste of human resources," Mao said.
Dr Yvan Hutin, WHO's hepatitis officer in China, said the organization welcomed the government's decision, given regular casual contact, such as at work or in school, does not lead to transmission.
A survey in February found that 84 percent of multinational firms polled demanded that job applicants undergo HB screening, and that 44 percent said they would reject an HB carrier.