Two Yunnan officials have been changing the face of governance with bold ideas. Tan Yingzi and Li Yingqing report
Ten years after Yunnan's capital city Kunming made national headlines by hosting the 1999 World Horticulture Expo, China's southwesternmost province is again attracting attention, thanks to two controversial local officials full of bold ideas.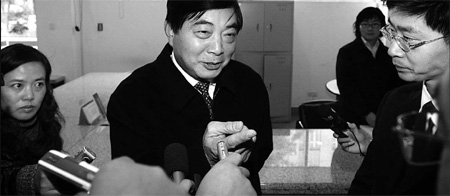 Qiu He visits a community service center in Kunming, Yunnan province. [Wang Lei]
Qiu He, 52, is Kunming Communist Party chief and top official of the city and is known for his straight talking ways and strong-willed governance. Wu Hao, 39, deputy director of the provincial publicity department, is an Internet "addict" and active tweeter committed to improving the transparency of administration.
Despite boasting a pleasant climate and rich natural and cultural resources, Yunnan, literally "South of the Clouds", remains one of the undeveloped provinces of the country. Kunming lags behind most other cities in social and economic development.
According to Jin Ou, an urban planning expert who also runs a local investment consulting firm, her hometown Kunming was "sleeping" this past decade while its counterparts in neighboring provinces marched ahead.
With the same out-of-date airport, poor old city planning and growing traffic problems, this "Spring City" has gradually lost its charm for visitors.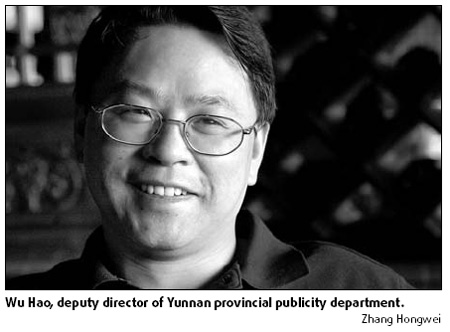 "We used to think our city was at least much better than Nanning (capital of neighboring Guangxi Zhuang autonomous region, also one of the poorest regions in China)," she says. "But now we have to admit Kunming lags behind even Nanning."
Since Qiu, the new leader of the city, arrived two years ago, Jin has been noticing big changes in the local administration.
"In the past, we chased after the officials if we wanted to work with them," she says. "Now they chase after us asking if there is anything they can do for us."
When working on an urban reconstruction project in March, the local community office staff would call Jin once a week to check if she needed more help.
Qiu, called by local media "the most controversial municipal Party Secretary in China", earned this name after a series of bold reforms in the city of Suqian, Jiangsu province, in areas such as government administration, education and healthcare.
He called for a clean and efficient government, pushed forward the old town relocation projects, sold public hospitals and schools and experimented with the direct election of officials by the public.
His moves sparked heated discussion and even criticism, but Qiu marched on after President Hu Jintao and other State leaders visited Suqian.
"Don't be afraid of controversy and mistakes over the reform," he says. "But I always try to reduce the controversy and make as few mistakes as possible."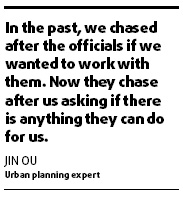 Suqian used to be the poorest city in the wealthy province. But after coming under Qiu's administration from 1996 to 2006, its total production value and local financial revenue exceeded that of other cities in Jiangsu.
When he was appointed as the top official in Kunming, it was expected that he would replicate Suqian's success story. And he did.
As in Suqian, Qiu focused on improving government efficiency and upgrading the city's infrastructure to attract more investment.
After just two months in office, he shocked the city by releasing in the Kunming Daily four pages of the contact information of all the heads of the municipal department. The newspaper sold out in hours and an additional 30,000 copies had to be printed to meet the demand.
He also forced his officials "back into the classroom", organizing many lectures for them. He even fired a local investment official who fell asleep at a lecture on investment and development. Recently, he made foreign language skills a new requirement in the selection and promotion of local officials.
He has also invited the media to assess the work of government and promoted e-government to reduce administrative costs and improve work efficiency.
Faced with a messy downtown area where hundreds of shabby village houses stand next to new modern buildings, Qiu launched a large-scale relocation program which involved many disputes on compensation.
And at his insistence, construction on the long planned second ring road, that will greatly ease the traffic congestion, started last year and was completed ahead of schedule.
Wu Hao, the first Chinese official to use Twitter, the online social networking service, attracted nearly 50,000 followers in just one month.
Feeding about seven tweets through his mobile phone every day, the youngest deputy director of a provincial publicity department in the country is not afraid of sharing his work, personal life and emotions with strangers.
"Some say I am trying to show off (by using Twitter)," he says. "But we Chinese officials should also show some personality."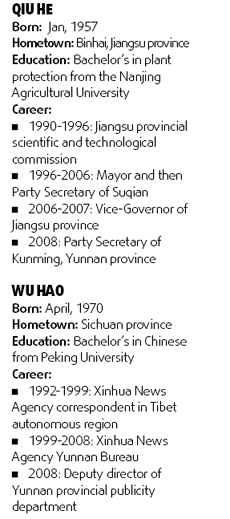 Last month, Wu set up another Twitter account for the Yunnan publicity department for the quick dissemination of government information. The move made Yunnan the first province with a government department using Twitter.
"We opened our Twitter feed to encourage public opinion on social issues. It shows the government's confidence in making its work more open," Wu says.
The journalist-turned-publicity official understands well the power of the media, especially that of China's 380 million Internet users.
As an enthusiastic veteran Web user, he believes in the way advanced information technology can change communication between the government and the public.
Within a year of assuming office, Wu established a reputation for his innovative ideas with several firsts. In February, a 24-year-old detainee Li Qiaoming was found beaten to death by a fellow inmate in a Yunnan detention house after initial claims he died during a game of hide-and-seek. Under enormous pressure and suspicion voiced by netizens, Wu came up with the novel idea of inviting a group of fam ous bloggers in China to investigate the case together with the local police.
In November, at the country's first Internet press conference, 100 citizens aged from 17 to 66 in Kunming and other Yunnan cities were selected to act as "voluntary media supervisors", responsible for overseeing the province's 10 newspapers.
Despite the controversy over the two Yunnan officials' radical reforms, their work has been recognized by the public and learned from by many young innovative Chinese officials.
Qiu He's story has spread to the whole country and a book on his reform in Suqian has become a must-read for many local officials.
Wu Hao has been nominated for several national awards for innovation.