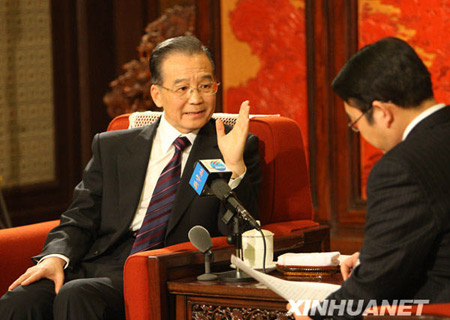 Premier Wen Jiabao answers a question in an online interview with Xinhua News Agency in Beijing on December 27, 2009. [Xinhua]
Premier Wen Jiabao said Sunday that the nation will not bow to pressure from other countries to revalue the yuan because they are using the issue as a tool to curb China's development.
He also cautioned against the possibility of rising inflation in the country next year and said that it's too early to say that the national economy has fully recovered, although many economists have expressed optimism about the country's GDP growth and inflation control next year.
"We will absolutely not agree to the various calls pressuring us to appreciate the yuan," he said during an interview with Xinhua News Agency.
"They are, on the one hand, demanding the yuan's appreciation and, on the other, imposing a variety of trade protectionist measures, which, in essence, is to retard China's development."
Despite widespread acknowledgement that free trade helps the global economy, some developed countries have taken measures to block Chinese exports. On Dec 22, for example, the European Union decided to extend dumping duties on leather footwear from China for another 15 months.
By the end of November, 19 countries and regions had launched 103 trade remedy investigations against Chinese products and both the number of the cases and the money involved hit a record, according to the Ministry of Commerce.
A higher yuan would make China's exports more expensive and products from developed countries cheaper, but Wen said that maintaining the stability of the yuan's exchange rate is an important contribution to global financial stability and economic development. He cited the 1997-98 Asian financial crisis, during which Beijing's decision to keep the yuan's value unchanged is believed to have anchored regional currencies and economies.
Wen said China will, together with other countries, make more efforts to promote global trade since "no one would develop without flow of trade".
"We need action now," he said.
Related readings:


 China's Nov CPI rises 0.6%, PPI down 2.1%


 China's unit GDP energy consumption cut revised to 5.2%


 China revises 2008 GDP growth up to 9.6%


 Premier: Economy could be better with less lending

He also admitted there have been signs of rising inflation, but said there's no major immediate threat. "China is not facing an inflation issue for the moment ... but we should foresee such a possibility and maintain consumer prices at a reasonable level."
The consumer price index (CPI), a major gauge of inflation, rose by 0.6 percent in November, the first year-on-year growth since January this year.
Economists, however, have forecast there would not be high inflation next year as economic growth continues to pick up.
"It is impossible that there would be very high inflation for the whole of next year," Fan Gang, senior economist and member of the central bank's monetary policy committee, said at a Saturday forum organized by the HSBC School of Business of Peking University.
The country is still facing the problem of over-capacity, which means prices will not rise too high, he said.
The government will try to keep the CPI under 3 percent next year, Xia Bin, senior economist of the State Council's Development Research Center, said at the forum. It will take into account the CPI level when it pushes pricing reform of energy and resource products.
The government has been raising prices of energy and resource products, such as water and electricity, to better reflect market forces and protect the environment.
Wen also urged all nations to recognize the hard-won results of the Copenhagen climate change conference this month and build consensus for future action against climate change.