Its violence was said to splinter logs. The roaring whirlpool where the 25-m-high Diaoshuilou Waterfall smashes into Heilongjiang province's Jingpo Lake captivated Di Huanran's gaze.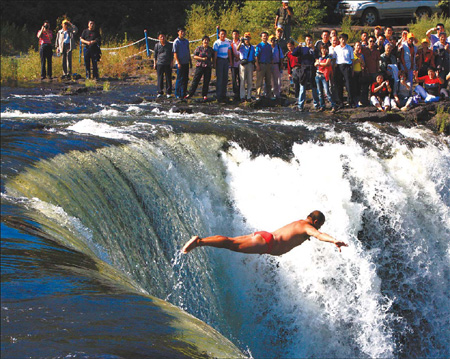 Di Huanran, 51, leaps into the 25-m-high Diaoshuilou Waterfall in Heilongjiang province. This is the same place where Di, then 25, made his first dive. [Courtesy of Di Huanran
] 
Infatuation had enticed him to clamber halfway up the cliff face on that day in 1983 to stare at the point where the cataract's mouth foamed with rabid fury that turned green water white.
Di pressed his palms together as if in prayer, then lifted them above his head. The thousands of bystanders had little inkling he was about to make a tremendous leap of faith.
With legs like piston rods, the 25-year-old pounced headfirst from the crag, training his fingertips on the bull's-eye created by the vortex's center.
Onlookers gasped as the human missile shot toward the roiling swirl, detonating a frothy explosion upon impact. They panted with suspense as velocity sucked Di several meters underwater and the ferocious maelstrom whipped his figure to and fro.
The crowd's inhalations became eruptive cheers as Di thrashed free from the chokehold of the watery spiral's tentacles, pulling his dripping body onto the bank, unscathed.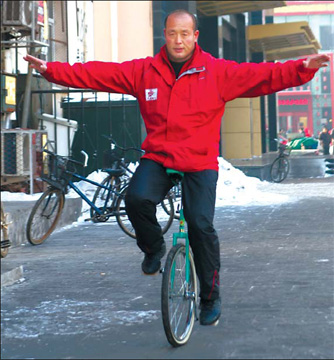 Di Huanran riding a unicycle to hone his balance.
[Courtesy of Di Huanran
] 
He immediately scuttled back up the precipice and dove in three more times.
"I'll never forget that first dive," he says.
"The scene was so amazing. It was like standing on a snowy mountain in summertime, so I couldn't help but jump."
But he leapt with no certainty about the perils awaiting him below.
"I was surprised to find the waterfall was as comfortable as a natural shower and not at all as dangerous as it was rumored," he says. "Nothing bad happened, but I felt so good." Soon after, Di gained acclaim as China's first cliff diver.
The exhilaration of that first jump led the Harbin native to continue taking his pastime to greater heights.
He returned to repeat the dive the next week, this time bringing several friends. This marked the beginning of a diving team that would last for about a decade, until age forced the other members to quit.
Cliff diving replaced chauffeuring as Di's livelihood in 2002, when the Jingpo Lake park and forestry bureau hired him to stage regular performances. He earns an annual salary of about 50,000 yuan ($7,315) working five months per year.
On Sept 21, 2008, a 12.19-m-high plunge from Diaoshuilou earned him a Guinness World Record for the highest waterfall dive.
"I wasn't as excited about the certificate as people thought I should be," the 50-year-old says. "It came too late; it should have been given 20 years ago."
He plans to dive from a higher point on Guangxi Zhuang autonomous region's 40-m-high Detian Cataract, one of Asia's largest waterfalls, next year. However, he declines to discuss specifics. "Many people have criticized me over the years for showing off," he says. "But I don't care what they think - not at all." Di makes more than 100 dives annually and continues to push his limits, he says.
His reason: "Somebody has to do it."
The daredevil has been trying more bridge diving lately. "There's no point of reference for bridge dives, because the water and sky are both blue," he says. "After one becomes a skilled bridge diver, cliff diving is a piece of cake."
The swimmer explains that after more than a decade of leaping from cliffs and bridges, diving sets his mind racing faster than his heart.
"I no longer think about how exciting it is," he says. "Now, it's more about diving artistically, about perfecting my form and trajectory."
To hone his balance, Di began riding a unicycle in 2002 - an activity he says is much trickier than diving. He warms up for every plunge with a 10-minute riding session.
But while Di has become more calculating about improving the mechanics of his diving, that doesn't mean he has lost his passion for the activity. "Diving is my spiritual pillar and my addiction," he says. "It relieves my bad moods, colds and fevers, and satisfies my soul. For me, it's like hugging nature."
He had daydreamed for a long time about cliff diving before making the first leap and sometimes shared these fantasies with his family.
"Are you crazy?" they asked.
His wife told him, "You can do whatever you want - that is, after we get divorced."
But today, Di's spouse supports him. So too do his two grown children, but he laments they have no aspirations to practice his craft.
Di plans to continue diving as long as he is still healthy, he says.
Aquatic sports became his passion at age 8, and he joined a local swim team as a teenager.
The squad earned a good reputation for retrieving drowning and drowned people from the water. Di says he long ago lost count of how many lives he saved and bodies he recovered.
"We wanted to let people know we didn't only swim for the sake of swimming but also to help the community," he says.
Di has also drawn up plans for a diving vehicle he had hoped would be built before the 2008 Olympics. But he hasn't found anyone willing to undertake the project.
The vehicle is basically a tractor with a transparent, water-filled trailer about 12-m-long and 2-m-high that serves as the diving tank. Di would leap from a 10-m-high platform affixed to a jointed mechanical arm attached to the truck's rooftop.
"The diving vehicle is my only concern right now, and I'll keep searching until I find an investor," Di says. "I have faith in it."
He looks at the difficulty of completing the project as just another challenge - one he will, like all others, take on headfirst.