Copenhagen: Chinese Premier Wen Jiabao told world leaders at the UN climate change conference in Copenhagen Friday that China has made unremitting efforts at cutting emissions will do better even though there are more difficulties lying ahead.
"This is a voluntary action China has taken in the light of its national circumstances," Wen said.

"We have not attached any condition to the target, nor have we linked it to the target of any other country. We will honor our word with real action. Whatever outcome this conference may produce, we will be fully committed to achieving and even exceeding the target."

In responding to developed countries'insistance on transparency, Wen said: "We will further enhance the domestic statistical, monitoring and evaluation methods, improve the way for releasing emission reduction information, increase transparency and actively engage in international exchange, dialogue and cooperation."

Wen said fairness must be part of the formula for successful climate change efforts. Developing countries only started industrialization a few decades ago and many of their people still live in abject poverty today. China alone has 150 million people living in poverty by UN standards.
"It is totally unjustified to ask them to undertake emission reduction targets beyond their due obligations and capabilities in disregard of historical responsibilities, per capita emissions and different levels of development," he said.
Wen also urged countries to pay attention to emission reduction targets. The Kyoto Protocol set them out for developed countries in the first commitment period by 2012, but emissions from many developed countries have increased rather than decreased.
Following are the highlights of Wen's speech:

The principle of "common but differentiated responsibilities" represents the core of international cooperation on climate change and must never be compromised.

China faces the arduous task of developing its economy but regards addressing climate change as an important strategic task.

The United Nations Framework Convention on Climate Change and its Kyoto Protocol reflect the broad consensus among all parties and therefore must be further strengthened.

China has made the most intensive efforts in energy conservation and pollution reduction in recent years.

China has enjoyed the fastest growth of new energy and renewable energy, and has the largest area of man-made forests in the world.

A long-term perspective and a focus on the present are needed in tackling climate change. 
China had focused on four major areas in recent years to protect the environment: laws and regulations, energy conservation and pollution reduction, new energy and renewable energy, and forestation.
China have implemented pilot projects for a circular economy, promoted energy-saving and environment-friendly vehicles and supported the use of energy-saving products by ordinary households through government subsidies."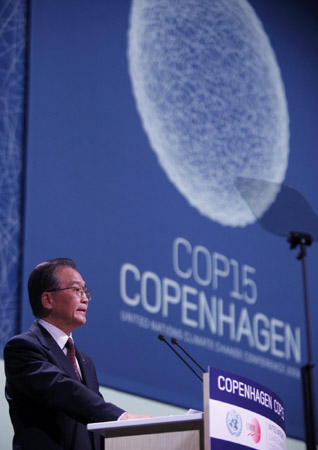 Chinese Premier Wen Jiabao addresses the session of United Nations Climate Change Conference 2009 in Copenhagen December 18, 2009.[Agencies]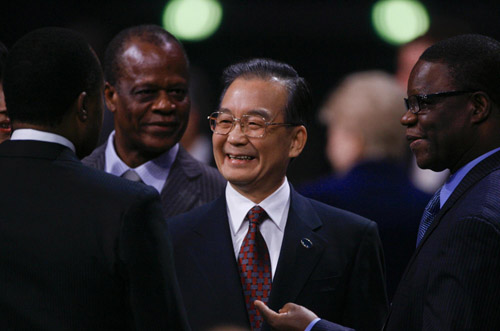 Chinese Premier Wen Jiabao (C) chats with delegates at the session of United Nations Climate Change Conference 2009 in Copenhagen December 18, 2009. [Agencies]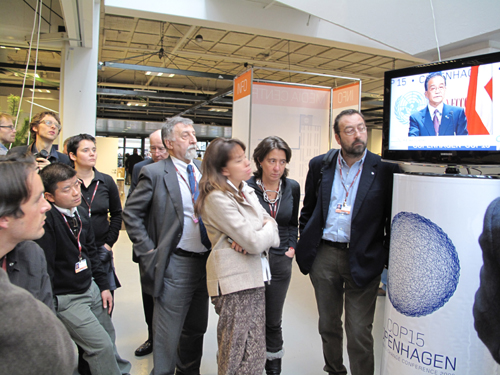 Reporters watch a television screen broadcasting Chinese Premier Wen Jiabao's speech at the opening session of the final summit segment of the UN climate change conference in Copenhagen.[Li Xing/China Daily]