It is a dazzle of light and color as one strolls along the tropical tree-lined boundaries of the grand Performance Lake. 
Shooters and nozzles eject into the air streams of water, which dance to both classical and popular music. Bursts of flame, the effect of pyrotechnics, erupt from beneath the surface of the Lake. There is a fleeting feeling of intense heat, quickly followed by a sense of passion, and pure bliss.
Surely, this is a place that knows no night. Macao is a temptress few can resist - and, the world capital of excess.
Not far from Wynn resorts, with its splendid performance lake, are other posh casinos - Sands, StarWorld, Grand Lisboa, MGM Grand Macao and The Venetian - that are open round-the-clock, luring visitors with their endless array of slot machines, baccarat tables and other games of chance.
Dame Luck is what brings most tourists to this gambling paradise in hopes their stars will twinkle and make their wallets bulge.
This year, however, there has been a slight decrease in the number of tourists, but those who do visit are staying longer in hotels, which together offer more than 20,000 rooms, says Joao Manuel Costa Antunes, director of Macao's Tourist Office.
No trace of the global financial crisis can be seen here - growth rate is forecast to increase by 3-4 percent, beating an earlier estimate of a 2-percent decline.
In short, it has never been this good.
The situation is in sharp contrast to the first years after this former Portuguese colony was handed over to the mainland on Dec 20, 1999. Then, visitors to Macao were parsimonious, bringing their own food and not renting rooms.
As a special administrative region of the motherland now, Macao "is much more immune to the financial crisis", Antunes says.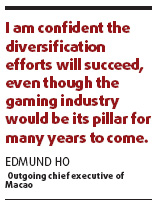 Macao is strategically located - at the southwestern tip of the Pearl River Delta. That is a boon to mainlanders who can, within hours, fly in from just about anywhere.
The real boost to tourism however came after 2003 when the central government loosened travel restrictions. The individual travelers' scheme allowed mainlanders to visit Macao on their own instead of in groups.
Ever since, Macao's economy has been closely tied to that of the mainland.
More than 32 million mainlanders have toured Macao so far, each spending on average 3,000 yuan, or $440, not including the money they gambled away.
Of the 23 million who visited Macao last year, more than half were from the mainland - and many ended up gambling at its famed casinos.
In fact, its gaming expense jumped seven-fold last year from what it was in 1999, the Tourist Office records showed.
Macao's gaming industry grew exponentially after it was liberalized in 2002 and licenses were granted to Wynn resorts, Galaxy-Las Vegas Sands and the local Sociedade de Jogos de Macau (SJM).
Business was so good that Sands Macao, the first American-owned and operated casino in the city, reportedly recouped its investment with its first-year profits.
Now, 33 casinos operate under 6 licenses and sub-licenses.
Macao's outgoing Chief Executive, Edmund Ho describes the industry as the "cash economy" whose push has been felt across sectors within a short period.
"The industry has undergone fundamental changes, both in terms of quantity and quality," says Ieong Wan Chong, director of the One Country Two Systems Research Center.
Macao's transformation after the handover has been "unprecedented", Ieong says.
Its gross domestic product has increased by more than 15 percent each year over the last ten years; population has grown by 27 percent and territory widened 38 percent. "You don't see such things happen anywhere else in this world, do you?"
In 2006, Macao surged past Las Vegas to become the world's largest gambling destination.
Two years later, revenue from gaming had crossed 100 billion patacas, or $12.5 billion. The sector paid taxes worth 30 billion patacas, or three-quarters of the government's income that fiscal year.
"This is a super-high level" considering that non-gambling revenue exceeds gambling proceeds even in Las Vegas, Ieong says.
The gaming industry's stranglehold over the economy is, however, a double-edged sword. Money can be made quickly and easily, but is also risky. The sector's fortunes are directly related to tourist numbers, which could be capricious.
Gambling's negative impact on society too can never be ignored. In recent years, many corrupt officials from the mainland have been found gambling away their ill-gotten wealth at Macao's casinos.
The rapid growth of Macao's gaming industry has come at "extremely high social cost", says Bai Zhijian, head of the Liaison Office of the Central People's Government in Macao.
Beijing is understandably concerned. The central government has urged Macao to diversify its economic structure and promote other industries.
"Macao's fast economic growth over the past decade has laid the foundation for it to seek a more diversified economic structure step by step," Edmund Ho says. "I am confident the diversification efforts will succeed, even though the gaming industry would be its pillar for many years to come," he says.
A government blueprint aims to develop the city into a global tourism and leisure hub, with the exhibitions, culture and creative industries as the engines of growth.
The exhibitions sector "is new in Macao", and it has seen fast development only over the past few years, says Sou Tim Peng, director of Macao Economic Services.
Massive investment in luxury hotels and casinos has enabled Macao to grow the exhibitions sector at a fast clip.
Antunes of the Tourist Office believes Macao's exhibition space is now twice that of neighboring Hong Kong's. The Venetian alone has 75,000 sq m of exhibition space, half the floor area of the Forbidden City in Beijing.
Macao held nearly 700 conferences and 36 large-scale exhibitions in the first half of this year, numbers comparable to last year's despite the global financial crisis.
The sector's growth has helped the tourism and services sectors, and "brought in a new breed of tourists to Macao", Sou says.
Heidi Ho, director of Macao Cultural Affairs Bureau, says the government can also play a major role in promoting the city's rich cultural heritage.
The cultures of the East and the West have been assimilated for over 450 years in Macao.
The UNESCO put the Historic Center of Macao on its World Heritage List on July 15, 2005. The settlement encompasses architectural legacies interwoven in the midst of the original urban fabric that includes streetscapes and piazzas.
These major urban squares and streetscapes provide the linkage for a succession of over 20 monuments, including the A-Ma Temple, Mandarin's House, Sir Robert Ho Tung Library, and Lou Kau Mansion.
In 2001, the government bought and started restoring the Lou Kau Mansion, which was built by a prominent Chinese merchant in 1889.
When the two-story, traditional grey-brick courtyard house opened to the public in 2003, it drew a lot of visitors, many of them local residents.
Recalls Ho: "One local visitor told me - I have lived in this area for years but never realized that there was such an important historical venue nearby."
Macao has also set up a Center for Creative Industries to promote the "Created in Macao" concept. The center is giving a fillip to creativity and innovation in areas such as advertising, architecture, craft design, film, designer fashion, music, and visual arts.
"The creative industry will be a shining point in Macao's development," Edmund Ho says.
Yet, jumping onto the cultural bandwagon will not be a smooth affair.
One drawback is the low educational level of the local populace.
According to Ieong, nearly a third of Macao's workers have received education only up to the secondary level - a situation he describes as "disproportionate" to their per capita GDP of $39,000.
Limited landmass, lack of resources and a shortage of talent are other major disadvantages on Macao's road to a diversified economy. Even so, Macao has found the right direction for growth, Bai Zhijian says.
China has drafted a grand development blueprint for the Pearl River Delta area, especially in the western part of Guangdong.
Plans have been approved for the development of Hengqin Island -just a few hundred meters away from Macao but three times larger- and a cross-sea bridge linking Macao with Hong Kong and Zhuhai.
"These are opportunities that Macao shall never miss," Bai says.