SHENZHEN: A traffic police officer who died after drinking too much alcohol was named a martyr who "died in the line of duty".
The honor was reportedly bestowed to raise compensation for his family, who were unhappy with the amount initially offered.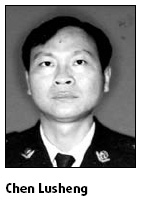 According to an anonymous insider from the police force in the Baoan district of Shenzhen, Guangdong province, officer Chen Lusheng was off duty on Oct 28 when he was invited to a dinner with officials.
Chen, known for his ability to hold his liquor, soon became the target of the hosts, who one by one asked for the officer to ganbei, or "bottoms up".
At one point Chen vomited, and his colleagues assisted him to a nearby sofa and left him alone so he could rest.
He was later found breathless in the sofa with a purple face.
He died in the hospital after emergency treatments.
It was determined that he suffocated to death.
Captain Xie Feiyong, who runs the police division, said they handed Chen the honor of martyr in order to give more compensation to the family of the 38-year-old sergeant, who had been a diligent and responsible policeman, Southern Metropolis Daily reported yesterday.
However, even though compensation has been raised from the designated 360,000 yuan ($52,000) for the death of a working sergeant to 650,000 yuan, the family is still not satisfied and is asking for at least 4.8 million yuan.
They have also caused a fuss by setting up a mourning hall at the police division.
Xie has called on more than 40 policemen and 120 assistant staff in his division to donate money for Chen, who came from a poor family in Central China's Hunan province.
He told reporters that police have to maintain a good network with officials from the surrounding villages.
Given Chen's good performance and his unexpected death, Xie's police division reported that Chen died suddenly when talking about work with the officials of Mabu village.
Chen was not the first official killed by the ganbei culture in China.
In July, an official with the local water resources bureau in Wuhan, capital of Hubei province, died after drinking excessive amounts of alcohol at a drinking banquet.
Jin Guoqing, 47, had been entertaining official guests when he reportedly became unconscious.
He was rushed to hospital but his heart had already stopped beating.
Hospital records indicated Jin's excessive drinking had triggered a heart attack, which led to his death.
Last month, a similar tragedy occurred with another official in Anhui province.
Shen Hao, 46, was the Party secretary of Fengyang county's Xiaogang village, famous for being the birthplace of the country's rural reform.
He was found dead by villagers in bed after having banquets with two business guests.
Ganbei culture has been popular among officials and business people, as they consider dinner tables good places to build relations and talk business.
Professor Li Chengyan, of the school of government at Peking University, said ritualized drinking is deeply ingrained in the relationships between government officials.
"Drinking with official guests or other officials at alcohol-soaked events is considered part of the job," he said, adding that a banquet was a mandatory exercise to welcome VIPs and was usually covered by public funds.
"To ganbei each other, or make a toast, is a Chinese way of communication. It is a part of the culture," explained Li.
"Officials are used to sealing deals and making decisions at dinner tables."
The culture is also wasting taxpayers' money, he said, adding that on average, officials spend about 500 billion yuan a year in public funds on banquets, almost a third of the nation's spending on dining out.
"It will be extremely difficult to change the drinking culture among Chinese officials unless the government clearly legislates against such behavior," Li said.