After three months of nightmares, rape victim Li Ruirui, who says she was attacked while held in a quasi-official "black jail", woke up Friday morning to learn that her abuser will spend eight years behind official bars for the assault.
The 20-year-old victim had been attempting to deliver a petition when she was detained and attacked on Aug 4 by a "guard" at a Beijing hotel that critics said was, in reality, a "black jail".
A Beijing court ordered 26-year-old Xu Jian to serve eight years and pay 2,300 yuan ($337) in compensation.
"I'm okay with the eight-year sentence but the compensation is just too little," Li told China Daily.
She did not travel to Beijing to hear the verdict.
Li's lawyer Zhang Jing said her client was expecting a lot more money.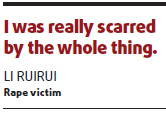 "We had asked for compensation of 105,187 yuan, for direct loss, psysiotherapy and mental damage but the court only supported a very small amount of the direct loss and none of the other two parts," Zhang said.
Li said she now plans to sue the hotel in Beijing where she said she was forcibly held, as well as her home city's liaison office in the capital, which was behind her illegal detention.
"I just want to get the compensation I deserve and want everyone to bear the responsibilities they should," Li said.
Li, who is from Anhui province, traveled to Beijing in August to deliver her petition to the State Bureau for Letters and Calls. She wanted to complain about having been ridiculed by teachers and classmates.
Li claims that after she got to Beijing, officials from her hometown's office saw her outside the bureau and took her to the hotel.
She was kept in a room along with several other people and Xu broke into that room and raped her in front of the others.
Critics claimed that Xu and the other guards in the "black jail" were trying to force the petitioners to leave the capital without delivering their various petitions.
Li reported the rape at a police station on Aug 4 and Xu soon fled to his hometown in Henan province, where he turned himself in a week later.
"I was really scarred by the whole thing," Li said on Friday. "Now I just can't help having nightmares. I'm taking sleeping pills everyday."