CHENGDU: Residents here are outraged at the local government's forcible demolition of a private building that led to one of the owners committing suicide by pouring gasoline on herself and lighting herself on fire.
Responding to the rage of netizens over the case, officials in Chengdu, Sichuan province, held a press conference on Tuesday to recount the story and tell their side.
Hu Changming, a local businessman, built a three-story building covering more than 2,000 sq m in Jinhua village in the Jinniu district of Chengdu in 1996 and used it as a garment processing plant.
In August 2007, the district government decided to link two roads and Hu's building was in the way of the road project. The district's urban management and law enforcing bureau negotiated with him for compensation for its demolition.
Related readings:


 Seniors home faces demolition, 6 detained


 Demolition hazard


 Demolition dispute leads to 1 death, 6 injuries


 The demolition of "nail house"
Hu asked for compensation of more than 8 million yuan ($1.17 million), but the construction and inventory cost for each square meter of the building did not surpass 1,000 yuan, bureau chief Zhong Changlin said.
After repeated negotiations failed, the bureau decided on April 10 to forcibly dismantle the building.
When Zhong and his men arrived at the scene on Nov 13, their actions were stalled by Hu, his ex-wife Tang Fuzhen, and their relatives, who threw bottles of gasoline to bureau employees, Zhong said.
Tang and 10-plus relatives threw rocks, blocks and bottles of gasoline to injure and burn more than 10 of them.
Nearly three hours later, Tang became desperate, poured gasoline on her body and burned herself.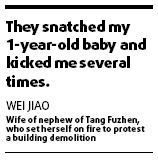 Firefighters extinguished the fire and Zhong's men sent her to the Chengdu Military Area General Hospital. Tang, 47, died on Nov 29, Zhong said.
District government officials blamed Tang's relatives for blocking the demolition and police have detained seven of them.
Meanwhile, netizens have strongly criticized the bureau's handling of the situation.
Before Tang set herself on fire, she kept asking Zhong's men, who had started dismantling the building, to withdraw and allow for one more negotiation.
She threatened that she would burn herself otherwise, onlookers said.
Instead of withdrawing, some men broke three steel doors and carried cudgels to the top of the building where Tang's relatives hid.
The sound of fighting and the crying of women and children ensued, said Deng Youde, a neighbor.
Wei Jiao, the wife of Tang's nephew, said Zhong's men with helmets and shields used cudgels to beat everyone they came across.
"They snatched my 1-year-old baby and kicked me several times," she said.
In the mayhem, Tang, who had become desperate while hiding in the attic, ignited the gasoline on her body, Deng said.
According to Chinese law, court officials, not district government officials, are responsible for forcible demolitions, said Liu Yajun, a lawyer in Beijing.