Nongfu Spring Co. Monday refuted the claim by Haikou city officials that two of its beverages were contaminated with the toxic chemical arsenic, and complained about the way local officials have handled the entire episode.
At a press briefing in Hangzhou, capital of Zhejiang province Monday, Nongfu officials showed the results of tests done by the National Food Quality Supervision and Inspection Center (NFQSIC) that showed its products - Shuirong C100 in Grapefruit flavor (a water-soluble vitamin C beverage) and Nongfu Orchard 30% Mixed Fruit and Vegetable Juice - had below the accepted level of 0.2 mg of arsenic per liter.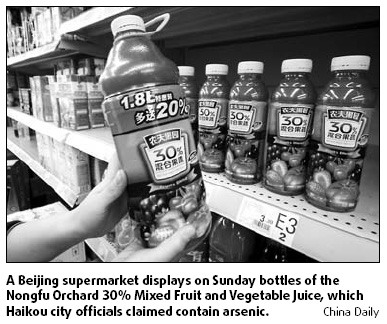 "All of our products are definitely free of the poisonous chemical arsenic we're going to make a claim for compensation from the local government," said Zhong Shanshan, chairman of Nongfu Spring, without elaborating on how much compensation the company will demand.
Haikou's Industrial & Commercial Administration Bureau posted a warning announcement to consumers on Nov 24 that Nongfu Spring's Nongfu Orchard and Shuirong C100 manufactured by the company's Guangdong Wanluhu Co Ltd on June 27 and Aug 16, respectively, along with a soft beverage product made by Taiwan-based Uni-President Group, contained excess amounts of arsenic.
Related readings:

 More people affected by arsenic contamination


 Arsenic poison hits 100 villagers in Guangxi


 Experts detail how rice absorbs arsenic


 High levels of arsenic found in Hunan river
Officials from the bureau could not be reached by China Daily yesterday, but a spokesman surnamed Gao from the Haikou bureau's superior counterpart - the Industrial & Commercial Administration Bureau of Hainan province - said that officials have already sent the products to NFQSIC for re-testing upon Nongfu Spring's objection to the result made by the Haikou bureau.
"We're still waiting for the outcome from the top inspection organization," Gao said.
Officials from the other implicated firm, Uni-President Group, said the Haikou bureau sent the re-inspection request to the top counterpart on Nov 28.