The Shaolin Temple may have sidestepped a challenge to Chinese kungfu, but another prominent school has stepped in to pick up the gauntlet.
Five famous professional Thai Boxers offered a challenge, claiming that they wanted to "wipe out the Shaolin Temple".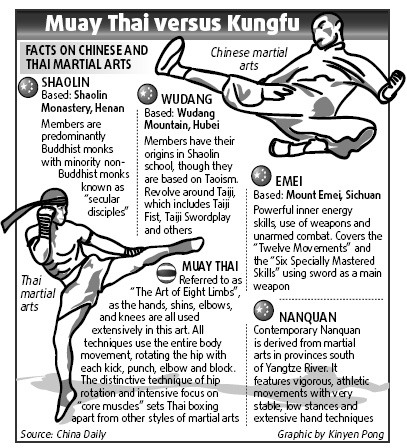 "Shaolin kungfu is a lie by these monks to Chinese Buddhists, and Chinese kungfu is nothing compared with ours," said one of the five Thai boxers who is ready to take on masters from the famous temple.
"If they accept our challenge, we'll win 5 to 0."
But Shaolin responded by saying the provocative words were "ridiculous", refusing to reply to the "secular challenge".
Zheng Shumin from Shaolin Temple said the temple is a holy Buddhist place where monks' primary concern is Zen practice and they would not get into contests with secular people.
"We receive so many challenges like this every year, we just don't want to reply," Zheng said. "We think this is hype from the Thai boxers and the organizers of the competition."
"In the history of Shaolin Temple, we never challenge or agree to fight others," said Zheng.
However, followers of Emei kungfu, another important school of martial arts in China, considers this a challenge that "any kungfu practitioner with a sense of justice should face."
Related readings:


 Saintly Sinner of Shaolin temple


 Shaolin strikes back at online hacker attacks


 Shaolin takes shot from web hoax


 Shaolin monks perform Chinese Kung Fu in Malta
Wang Jian, director of the Emei Martial Arts Association, and his senior disciple Huang Lin, entered the contest "to let the Thai boxers know that Chinese kungfu is never easy to beat."
"I couldn't bear it anymore ... after the public and all my fellow disciples urged me to show them real Chinese kungfu," Wang said.
"This is not only disrespectful to Chinese kungfu, it is also disrespectful to our nation," said Zhang Ji from Emei Martial Arts Association.
"As disciples of kungfu, whether from Shaolin, Emei, Wudang, or anywhere else, we should stand up to such defiance," he said.
The five boxers from Thailand will be in China for the contest on Dec 19 in Foshan, Guangdong province, the hometown of late action star Bruce Lee.