Golf, widely regarded as the rich man's game, is gobbling up the poor man's land in China.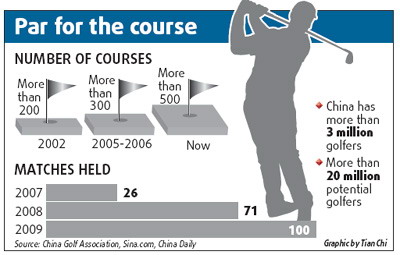 Hundreds of golf courses that have popped up across the country after 2004, when the government imposed a moratorium to protect the country's shrinking land resources, are illegal, Dang Zuoji, director of the land planning department of the Ministry of Land and Resources said yesterday.
"We still don't know the exact figure. But we're working on it and will have the information by 2010. The culprits will face harsh punishment," Dong said.
However, Dong added that a satellite system is expected to boost the monitoring of any illegal construction in all parts of the country.
Since September, the Ministry of Land and Resources, the National Development and Reform Commission, the Ministry of Environmental Protection, the Ministry of Housing and Urban-Rural Development, the State Administration for Industry and Commerce, the General Administration of Sport and the National Tourism Administration have been investigating the illegal construction of golf courses.
Related readings:


 Club head: Olympics status to boost Chinese golf


 Tax on golf clubs should be decreased, says official


 More public golf courses needed


 Golf remains exclusive to wealthy in China
In April 2009, Langfang Shangcheng Sports Development Co, Ltd in Hebei province was found to have built a golf course on about 100 hectares of construction land and nearly 126 hectares of arable land, said Sun Huaixin, deputy director of the law enforcement department of the Ministry of Supervision.
Handnice Group from Zhejiang province also illegally developed Anji green tourism and entertainment center, covering nearly 260 hectares in November 2005 and built an 18-hole golf course on about 40 hectares of land, including more than 13 hectares of arable land, Sun said.
The company started the construction in November 2005 and was sent several notices of illegal construction by the local land and resources bureau, he added.
With only 1.4 mu of farmland per capita in China, it is "quite ridiculous" to build a golf course that occupies 40 to 50 hectares of land and uses 3,000 cu m of water every day just for grass maintenance, Dong said.
Experts estimate that there are at least 20 million potential golf players in China, with the golfing industry, including the courses and equipment manufacturers, netting a whopping 60 billion yuan last year.
It is estimated China will have 2,700 courses by 2015.
An employee of the Beijing International Golf Club said the club is already full to its limit with 500 permanent members, and there are many more on the waiting list.
The permanent membership fee of the club is 330,000 yuan ($49,000). In Beijing it costs between 300,000 yuan to 1 million yuan to become a member of golf clubs.
At the Shanghai Sheshan Golf Club, where the 2006 HSBC Champions Tournament was held, a membership costs 1.45 million yuan.
Many universities like Peking University and Tsinghua University have optional golf classes for their students at low prices.
Since golf was introduced to China in 1984, it has been widely considered as a game for the privileged.
The country's first golf course, built in Zhongshan, Guangdong province, by the late Hong Kong tycoon Fok Ying-tung, is now a luxurious country club.