URUMQI: As the sun rose on Saturday, Mehmut Hazi, a Uygur man in his 30s, was at prayer in his mosque.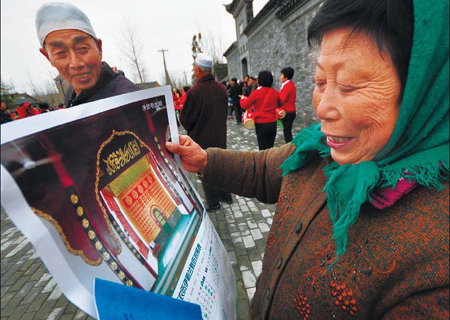 Members of the Muslim community in the city of Yangzhou, Jiangsu province, celebrate the Eid-ul-Azha, or Festival of Sacrifice, and receive next year's Islamic calendar, on Saturday. [Du Zongjun]
He was among more than 11 million Muslims who gathered across the Xinjiang Uygur autonomous region to celebrate Eid-ul-Azha, the Festival of Sacrifice.
The festival commemorates the willingness of the Prophet Ibrahim to sacrifice his son Ismael as an act of obedience to Allah and is considered one of the holiest days in the Muslim calendar.
Allah later advised Ibrahim to sacrifice an animal instead, but the prophet's willingness to carry out such a sacrifice is seen by Muslims as a sign of devotion.
After the service, Hazi headed home to sacrifice a goat he had carefully selected, according to traditional practices.
He would later distribute the meat to family members and relatives.
"My family has been preparing for the festival for more than a week," he said.
Related readings:


 Muslims worldwide celebrate Eid al-Adha


 Muslim festival Eid el-Adha marked in India

 Muslims nationwide celebrate Eid ul-Fitr


 Chinese Muslims celebrate Eid al-Adha
"We prepared nuts, cakes, lamb and other food three days ago.
"My family will pray for a happy future. I hope the festivities can disperse the unpleasant feelings left from July's riot. Muslims are peace-loving people.
"We wish for stability and prosperity."
There was no obvious police presence around the mosque as the worshippers walked in for morning prayer.
"I was expecting lots of police at the mosque during the festival after the July 5 riot but I am surprised I didn't see any," Hazi said.
"This is the way it should be."
Almost a thousand Muslim worshippers in Urumqi, capital of the region, donned festive costumes and packed the Han Tangre Mosque close to the city center at sunrise, as they do each year.
Xinjiang has a population of more than 21 million, more than half being Muslims from 10 ethnic groups, including members of the Uygur, Kazak and Hui groups.
All Muslims in the region are given a five-day holiday as part of the celebrations.
Shops selling dry fruit, traditional Muslim food and clothes were packed with people a few days earlier in the International Grand Bazaar in Urumqi, which is still recovering from July's riot that left 197 people dead - mostly Han Chinese - and more than 1,700 others injured.
Also on Saturday, Chinese Muslims in Pakistan gathered.
Raza Khan, head of the association of overseas Chinese of the Uygur nationality in Rawalpindi, Pakistan, hosted a reception in the capital, Islamabad.
Chinese Muslims from the city, as well as Rawalpindi and nearby cities, also joined diplomats from the Chinese embassy.
Chinese Ambassador Luo Zhaohui passed on his best wishes for the festivities and presented gifts.
Xinhua contributed to the story