Rescuers have cleared a major barrier in their scramble to free 16 miners trapped in flooding deep underground in Northeastern China.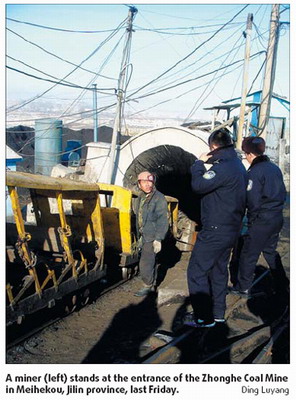 More than 40 rescuers will resume efforts to reach the miners after crew successfully managed to seal an area where there had been a cave-in.
The work means that additional water is no longer gushing into the flooded mine shaft.
The flooding began last Friday afternoon after a miner dug through a layer of quicksand containing water at the Zhonghe Coal Mine in the city of Meihekou, Jilin province, said local work safety officials.
"The rescue is extremely difficult this time," said Jia Changjiang, a coal mine expert, who was directing the rescue work going on below the surface.
As of yesterday afternoon, rescuers had been unable to make contact with the trapped miners.
Water, mud, gravel and coal had blocked the 200-m shaft inside the mine.
"Water is everywhere in the shaft, making the situation worse and worse," Jia said after investigating the mine underground.
He said miners were trapped in two places, with nine in one location and seven in the other area.
On the surface, the accident caused a crater 12 m deep and 20 m wide that was nearly a kilometer from the mine entrance.
Several excavators were used yesterday afternoon to plug the huge hole with lumber and sand, preventing more groundwater from filling the underground area threatening the trapped miners.
Song Wei, who is in charge of rescue work on the surface, said yesterday morning that 4,500 cu m of sand and earth would also be used to block the hole.
Workers have also continued to pump water out of the mine shaft during the rescue operations.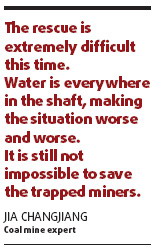 When the pumping is complete, rescuers will be able to remove the mud, sand and coal that is in the shaft, Song said.
"It is still not impossible to save the trapped miners," Jia said.
Fifteen of those trapped underground are said to be local residents from Meihekou while one is from Dongfeng county in Jilin province.
Their relatives have reportedly been arriving at the coal mine for more information on the situation.
The mine was licensed and run privately with an annual capacity of 60,000 tons, according to local authorities.
A gas explosion last weekend at another coal mine in Northeast China left 108 people dead.
The disaster at the Xinxing Coal Mine under the State-owned Heilongjiang Longmei Mining Holding Group's subsidiary in Hegang, Heilongjiang province, is said to be the country's worst in two years.