CHONGQING: A former senior judge detained on suspicion of taking bribes from gangsters committed suicide over the weekend, local authorities said on Sunday.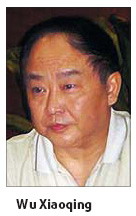 Wu Xiaoqing, 57, used a drawstring from his cotton underwear to hang himself in his cell at the No 2 Detention House at 12:31 pm on Saturday, the municipal government's information office said in a statement.
The ex-director of the enforcement bureau of the municipal higher people's court and president of a local court college was seized in June as part of an anti-corruption crackdown.
At least 200 local officials have been brought in for protecting organized criminals as part of the dragnet, police said.
The official statement said the former senior judge had managed to find a blackspot away from the security camera in his cell and killed himself as his cellmates slept.
His cellmates later woke up and alerted the guards in the area when they found his body.
Related readings:


 Chongqing gangleader executed, lawmakers sacked


 More cameras to watch Chongqing


 Chongqing dragnet claims new mob boss


 Lessons from Chongqing vital to corruption fight
Wu was sent to a local hospital before being pronounced dead, the statement said.
Two police officers at the detention house are under investigation following Wu's death, the authorities said.
Officials said the former judge left a suicide note, but neither the detention house nor the police would disclose the contents of the letter yesterday.
Wu was accused of taking bribes and possessing large sums of money he could "not specify the source of", according to the statement.
Wu had allegedly received bribes of about 3.5 million yuan ($512,700) and HK$100,000 ($12,900) between 1998 and 2008.
The former judge was also unable to provide an explanation to the authorities of where he had obtained another 5.18 million yuan, the statement said.
Wu was detained along with Zhang Tao, deputy chief justice of the Chongqing Higher People's Court, after media reported that the two had abused their powers to extort money in the auction of land in the city's district of Jiangbei in 2006.
Hu Yanyu, a partner at Zhibo Law Firm from 2001 to 2008 and Wu's alleged mistress, is being investigated along with at least 10 other lawyers, said Zhou Litai, a Chongqing-based lawyer.