Latest update:
The U.S. Embassy in China says three Americans are dead after a Zimbabwe cargo plane crashed during takeoff at Shanghai's main international airport.

Spokesman Richard Buangan says three Americans are confirmed dead and a fourth American is injured. He does not know the injured person's condition.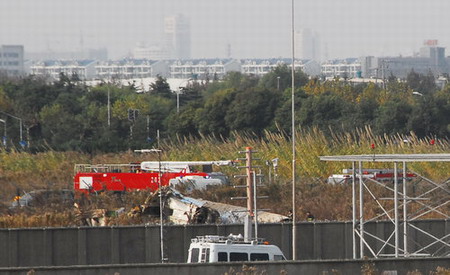 Fire engines and debris are seen at the scene of a plane crash at Shanghai Pudong International Airport in Shanghai November 28, 2009. Three died and four others were injured after a Zimbabwe-registered cargo plane caught fire at the airport Saturday, local officials said. [CFP]

SHANGHAI:Three crewmen of a Zimbabwe cargo plane were killed, with one seriously injured in a crash during take-off at the Pudong International Airport early morning.
The plane, with a total of seven crew members on board, is a MD-11 cargo aircraft destined to Bishkek, capital of Kyrgyzstan. It flew out of the runway and crashed at the safety zone of the airport at around 8:12 am. It is believed that a failure to lower the plane's undercarriage might have caused the accident.
The police, firefighters and armed police soon rushed to the site for the rescue and blocked the area, and the fire, which also lead to an ignition of a nearby warehouse that belongs to China Eastern Airlines, was put off at around 9 am.
So far the four injured were receiving treatments at the nearby Pudong People's Hospital.
"I was only 30 meters away from the crushing site and I saw heavy smokes of up to 70 metres high, with flames of up to 3-4 meters high," eyewitness Lu Aiguo, a worker at Huamao Cargo Agent Co, who lives nearly by, told China Daily.
According to his account, the crashing site was covered with smoke and only the plane tail was recognizable.
"I think it's the tail that first touched down the land, and the plane crashed at the end of the runway," he said.
"The runway Lane 1 was closed down and 6 fire trucks soon rushed to the site for rescue," he recalled.
The operation of the Pudong International Airport remained normal, and all the airport police were called back on duty.
By noon, all the China Eastern flights landing or taking off from Shanghai had been delayed due to the crash, with about 4,000 passengers remained stranded at the airport.
The authorities are still investigating on the cause of the crash.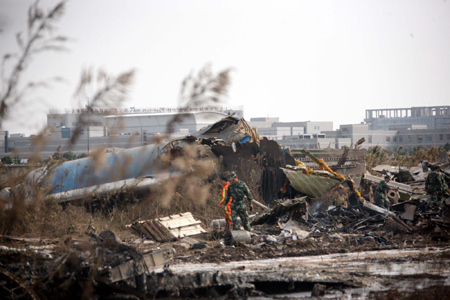 A general picture shows the scene of a plane crash at Shanghai Pudong International Airport in Shanghai November 28, 2009.[Xinhua]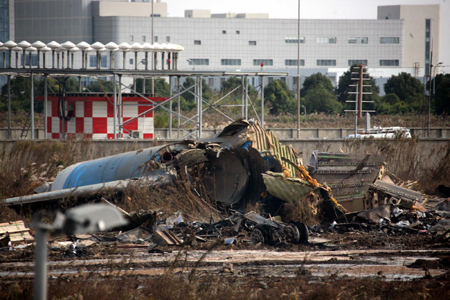 A general picture shows the scene of a plane crash at Shanghai Pudong International Airport in Shanghai November 28, 2009. [Xinhua]