SHENZHEN: United States retailing giant Wal-Mart Thursday launched its own investigation into the findings of a New-York based human rights group, which levied serious labor abuse allegations against the company after inspecting five of its supplier factories in China.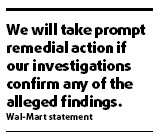 "We take such reports very seriously," a statement from Wal-Mart said.
"We will take prompt remedial action if our investigations confirm any of the alleged findings."
A China Labor Watch (CLW) report, which was made public on Wednesday, alleged that employees in a number of Chinese supplier factories of the US retailer have been forced to work up to 77 hours a week in "poor working conditions".
Related readings:


 Till death do us part: Walmart.com selling caskets


 Woman beaten to death for suspected Walmart shoplifting


 WalMart labels see Western prejudice
As the world's largest retailer, "Wal-Mart leverages its massive product orders to purchase goods at low prices, and the workers have to bear the financial burden", CLW said in a statement.
CLW sent its own investigators to work in two factories in Shenzhen and found out that "workers are forced to lie to Wal-Mart auditors about their meager incomes, insurance coverage and working hours".
Good workers get an annual bonus of no more than 100 yuan, the report said.
Li Qiang, the founder and executive director of CLW who has been looking into Wal-Mart's practices for nearly a decade, said the retailing giant "deserves moral condemnation at a time when Chinese workers cannot sue the company over poor work conditions".
Wal-Mart, which has more than 250 stores across China, outlined a series of goals last year geared toward a more environmentally and socially responsible worldwide supply chain, according to the company.