A vengeful man was shot dead by police after he killed a pedestrian and injured 12 others in the street Thursday morning in Harbin, capital of Heilongjiang province.
The attacker, identified as Pan Yuanfei, 38, started the rampage in the early morning after knifing his elder sister, Pan Xiaohui, out of revenge, police sources say. He then proceeded to the street and started slashing passers-by.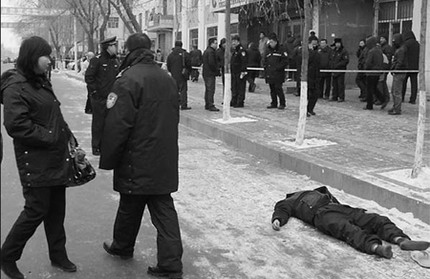 Pan Yuanfei lies dead on Thursday after being shot by cops to stop him from hurting more people in Acheng district of Harbin, capital of Heilongjiang province. [Courtesy of Acheng public security bureau]
The motive of the violence remains unknown.
Wang You, a 43-year-old music teacher, was slain by the man.
All injured people, including the suspect's sister, are receiving treatment at the People's Hospital in Acheng district, where the incident took place.
Related readings:


 Man charged in police station restroom rampage


 4 Chinese killed in NY shooting rampage


 Gunman in Azeri rampage kills 12


 Military doctor kills 13 in US Fort Hood rampage
Most of the victims were stabbed in the back. One of them, 63-year-old Shen Yanfang, suffered "thorough" craniocerebral injuries, according to sources at the hospital.
"He's only got a 10 percent chance of coming out of this alive," Shen Jide, deputy chief of the hospital, told China Daily.
Li Changting, 48, is in a coma after being stabbed while driving a child to school. With his wife laid off from work and a son in college, the wagon driver was the family's sole breadwinner.
Seven of the 12 injured were male. The victims' ages ranged from 34 to 63, Shen said.
The attacker's 40-year-old sister, currently unemployed, was stabbed five times and is also in a coma. Police are racing to find her 8-year-old son, who was missing after the incident.
The murderer's father, a retired local police officer in his 60s, told China Daily that his son's wife, Li Xia, left home a few years ago.
Pan had just beaten his daughter, who is now 10 years old and lives with Pan's father, on Sunday and injured her head.
In yesterday's incident, police rushed to the scene after receiving calls from local residents at about 7 am.
On a street corner filled with more than 70 onlookers, police officer Guo Jianhua shot the killer three times after his colleague Song Jinlong failed to subdue him with tear gas.
Even after the shots, Pan still managed to keep running while waving his knife, police said.
Song had to knock him down with a police baton. Pan died moments later.
Pan, a native of Harbin's Mao'ershan township, served a six-year prison term for robbery beginning in 1991. Police refuted earlier media allegations that he suffered from mental illnesses, saying they still are not certain about the killer's state of mind.
Zhao Yunpeng contributed to the story