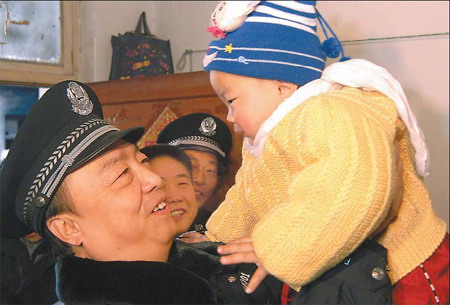 Wang Rui, Shaanxi provincial police chief, proudly holds up a child rescued from kidnappers in Qianxian county, Shaanxi province, on Nov 20. [Ding Haitao/China Daily] 
Two convicted kidnappers were executed Thursday morning in Henan province, according to the Supreme People's Court.
Hu Minghua, 55, a major human trafficker, kidnapped nine boys aged 3 to 6 years and sold them for approximately 12,000 yuan ($1,760) each.
Su Binde, a 27-year-old farmer, kidnapped six children, some no older than five months. Su sold them for approximately 20,000 yuan each.
The SPC approved the executions and also reaffirmed its stance in cracking down on kidnappers of children.
"To the human traffickers who intentionally kidnap children for profit, we will impose severe punishments," said Wang Shaonan, spokesman for the SPC, yesterday. "And for kidnappers sentenced to death with convictions that are up to the standard, the SPC will approve of the sentences."
Related readings:


 Kidnappers arrested as police find 3 children


 Young trafficker prefers jail to training


 Police capture child trafficker


 Kidnappers sentenced to life terms in SW China
Exactly 1,107 cases of abducted children have been heard and 1,714 criminals involved in kidnapping have been sentenced nationwide this year. About 3,000 abduction cases of children and women are recorded and investigated by authorities annually, but experts say the number of kidnapped children and women is as high as 30,000.
China has been stepping up efforts to locate the abducted as well as reconnect rescued children with their families. Last month, the Ministry of Public Security released photographs and personal information of approximately 60 rescued children on its website.
It is the first time the ministry has published data about children whose parents couldn't be found through the national DNA database.
According to the Criminal Law, those who kidnap more than three children could face the minimum of five years in prison to the maximum of a death sentence.
But that hasn't slowed the number of kidnapping cases. In fact, the crime is becoming more popular.
Zhou Feng, a SPC judge, said there are three main reasons for the rise in kidnappings. First, it is a high-profit trade; second, there is a large market, especially in rural areas where people who shun the idea of having a girl in the family spend a lot of money to buy a boy.
"Some women give birth to children so that they can sell them for money," Zhou said.
Third, kidnappers are now more organized, which complicates police investigations. Many kidnappers, Zhou said, frequently change their sites of operation.
Zhou said that villagers, sympathetic to the families who purchase abducted children, even try to thwart police investigations.
According to the law, buyers of kidnapped children who cooperate with the authorities and return the children back to their parents may not be punished. And buyers who do not cooperate could face no more than three years' imprisonment.