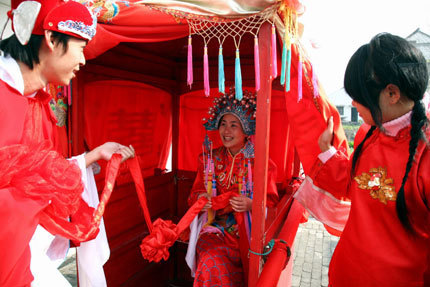 A traditional Chinese wedding ceremony is performed at Langxia Town of Jinshan District, when the first five families were designated by the Shanghai Tourism Administration as the pilots for the "suburban life experience" project during the 2010 Shanghai World Expo. As part of the program, visitors will enjoy folk customs of Shanghai's suburbs during the event. [Agencies]

Shanghai: Shanghai tourism authorities published a draft standard for home-stay lodgings for the 2010 World Expo.
The draft regulated specific service standards, such as room facilities, food safety and security. But it didn't mention price.
The draft was written by the Shanghai Tourism Administration and Shanghai University. The final version is expected to be published by the end of the year, officials said.
The standard said home-stay hosts should provide a bedroom occupying no less than 10 square meters with furniture and Internet access. Families should also provide disposable tooth brushes, tooth paste and slippers in the bathroom.
Residents should not raise dangerous pets when tourists stay at home. They should also acquire simple English to communicate with the guests.
Zhu Guojian, deputy director of the policy and law department of the administration, who was one of the draftsmen, said home-stay quarters with different conditions will have different price.
Related readings:


 Shanghai Tourism Festival kicks off


 Preparation for Expo proceeds into operation phase


 Expo IPR training held
"The specific charging standard has not been fixed," he said.
Linfen Community in Zhabei District, which is the pilot for the home-stay project, said as the home-stay lodges are not registered companies, they cannot charge tourists directly. The neighborhood has established an Expo service center where tourists will pay, and which will reimburse the hosts.
The neighborhood now has 13 families participating the project. The number will rise to 50 to 60 eventually, officials said.
"We will organize deputies to the Shanghai People's Congress to experience the home-stay lodgings next month," said Zheng Wanping, a neighborhood official.
Last month, 15 foreign tourists were invited to stay for one night with the families. The neighborhood received good responses from the guests.
"A Japanese college student came back later to express his gratitude, and promised to come again with his family," Zheng said.
The administration said the project is expected to be promoted in the downtown area, covering about 500 to 600 families.