The curtain of the 2009 China International Tourism Festival has fallen. Scores of exhibitors and visitors came to Zhouzhuang to check out videos, pictures and live performances exhibiting the charm of "the Top Riverside Town in China".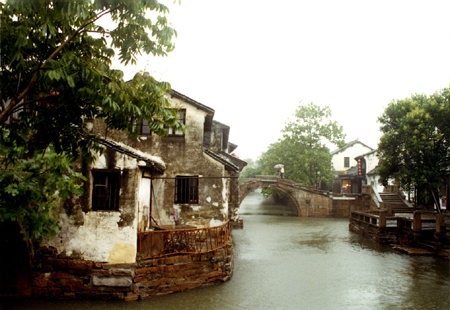 A glimpse of the beautiful sceneries in Zhouzhuang. [File Photo]

The year 2010 has been called "the Year of China's Expo Tourism" by the National Tourism Administration. It is estimated that over 70 million visitors will go to the Expo in Shanghai in 2010, 3.5 million of which will be overseas tourists.
Ren Yongdong, director of Zhouzhuang Tourism Company, said transportation in the town has been improved for the upcoming Shanghai Expo.
Zhouzhuang, one of the most famous water townships in China, is located in Kunshan City, 30 kilometers southeast of Suzhou in Jiangsu province. It is known for its profound cultural background, well-preserved ancient residential houses, elegant water views and strong local traditions and customs.
Sixty percent of Zhouzhuang's structures were built during the Ming and Qing Dynasties, from 1368 to 1911.
The "Venice of the East" draws tourists from all over the world annually.
"We have 3 million visitors every year, 50% of which are from overseas," Ren said.