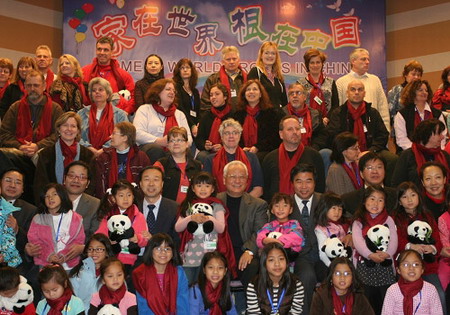 Adopted Chinese children with their foreign parents at a welcoming ceremony organized by the Chinese Ministry of Civil Affairs on Monday, November 23, 2009. The children from 37 foreign families are currently on a root-seeking trip in China to explore their native country. [mca.gov.cn] 
Forty-six children who were adopted by foreigners and are growing up abroad have come back to their birthplaces in China on a root-seeking trip.
The children have arrived in Beijing on their first stop, accompanied by their adoptive families from the United States, Canada, the UK, Australia, the Netherlands, and Sweden.
Their families hope the trip will help their adopted children better understand their hometowns.
"Hello everyone at CRI. It's Elisabeth from England."
Related readings:


 12 of 623 quake orphans adopted: official


 Adopted girl needs help to battle brain tumor


 Mother's love for adopted girl draws admiration


 Twins marry decades after being adopted out
Seven year-old Elisabeth had an unfortunate beginning when her mother abandoned her at birth. Yet, she was also very lucky to be adopted six years ago by the Dejonghs from England.
Fifty-four-year-old Lawrence Dejongh is a property manager. He and his wife adopted Elisabeth in 2003 and another Chinese girl, Catherine, in 2007.
Dejongh says his family will travel to Elisabeth's birthplace in central China's Hubei Province. They also plan to visit Catherine's hometown in the coming year.
"We wanted a little sister for Elisabeth. And when she gets older, she will have a family member. If they want to come back to China, that will be no problem at all. We are hoping to come back to China in a year or two's time when our younger daughter is about seven, so she can visit Guangzhou as well."
Elisabeth and Catherine are among a hundred thousand children who have been adopted by international families, since China issued an Adoption Law in 1992.
Dou Yupei is China's Vice Minister of Civil Affairs.
He says the government has issued strict regulations for international adoptions and monitors adoptive families to ensure the children have healthy developments.
"International adoption is an undertaking that brings to these children love and a bright future. We warmly welcome these children and their foreign families to come back to China. We want them to remember that no matter where they are, our best wishes are always with them. And I hope that these adoptive children will become messengers of friendship between China and the rest of the world."
Dou says such root-seeking trips can help the children better understand their hometowns and give them a clear identification of themselves, which will help them grow up healthily and soundly.