CHENGDU: A magnitude-4.8 earthquake Monday afternoon jolted Wenchuan county in Sichuan province, the epicenter of last year's magnitude-8.0 earthquake.
The tremor, which lasted about 10 seconds, took place between Yingxiu town and Gengda township in Wenchuan. It was felt in parts of Chengdu and neighboring Chongqing municipality, officials from the Sichuan provincial and Chongqing seismological bureau said.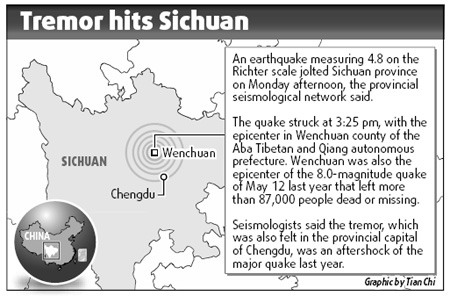 When the latest quake struck the area at 3:25 pm, Xiao Xie, a young public servant in the Wenchuan county committee of the Communist Party of China, was typing a document in front of his computer in his office on the fifth floor.
Xiao suddenly felt a sense of numbness below his feet.
"I wondered at first if it was an earthquake. Then I thought if it might be shaking caused by the roadworks equipment below my office building," Xiao said.
"Just as the two ideas flashed across my mind, the jolting suddenly stopped."
Full Coverage:


 Sichuan Moving Foward
Related readings:


 5.6 magnitude aftershock hits Mianzhu


 Fresh aftershock hits Yunnan Province


 Aftershock strikes Sichuan, destroying houses, bridges


 Aftershock of magnitude 5.1 jolts epicenter of May 12 quake


 Two dead, three injured in Sichuan aftershock
"If it had lasted for two more seconds, I would have dashed out of the building," he said.
Yang Chao, a colleague of Xiao, found a big nameplate on his table had fallen off the table during the quake. Water in the drinking fountain of the 29-year-old worker's office was also found shaking with the tremor.
The quake, an aftershock of last year's May 12 temblor that left more than 87,000 dead or missing and millions of others homeless, jolted each town and village in the county, the Wenchuan county emergency response office said.
But no casualties, landslides or traffic interruptions had been reported as of press time yesterday.
"Even during the vibrations, workers on a construction site near my office building did not stop their work," said Shi Longbin, an office worker in the county government.
"So many aftershocks have hit Wenchuan since May 12 last year. People aren't as scared as before."