Few college graduates probably expect to be walking the beat once they are handed a degree.
But that is just what is happening in Hefei, capital of Anhui province.
Of 101 new urban management officers, or chengguan, patrolling 40 streets in the city, 90 of them have a bachelor's degree and 11 are postgraduates, China Youth Daily reported on Monday.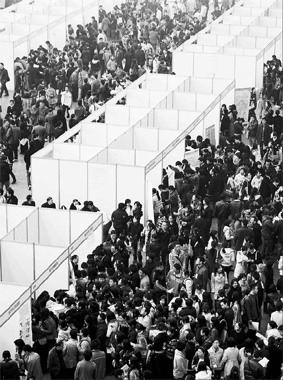 Job hunters swarm a career fair in Chongqing municipality yesterday. Many people have lowered their job expectations amid a tough employment market. [Xinhua] 
The bureau's intention was to improve the quality of chengguan so they will enforce laws and regulations in a more rational way, Qian Xin, publicity director at the bureau, told China Daily Monday.
"We're expecting them to work with passion, patience and reason, something urban management really needs," he said.
"And we'll continue recruiting college students next year."
Hu Shigui, a resident in the city's Yaohai district, said he would wait and see whether these well-educated chengguan will avoid violent methods of enforcement.
The new officers are mainly graduates from universities in Anhui, Chongqing municipality, Wuhan in Hubei province and Beijing, majoring in law, computer science, urban planning, advertising and public service.
The Hefei urban administrative bureau put recruitment posters on major websites of the province in February. All applicants without a bachelor's degree were rejected in the first round.
The recruitment led to hot debate on the province's biggest online forum bbs.hefei.cc. Some netizens criticized it as a waste to hire postgraduates as chengguan.
Related readings:

 Over 100 graduates work as chengguan in Anhui


 China's 6.3 mln college graduates to challenge job market: Education Minister


 China's public servant exam proves testing ground for graduates


 Chinese army to recruit 130,000 university graduates


 Graduates to benefit from startup program
But an anonymous student said the job situation has changed dramatically.
"It is not the time for college students to choose jobs. Instead, employers are choosing applicants," the student said.
"A funeral parlor in Shanghai recruited college graduates. Five university graduates were employed as boat pilots in Yangzhou," Mao Xianjing, a new officer at the bureau with a master's degree, was quoted by China Youth Daily as saying.
"How can we be so picky about jobs?"
As the number of college students has surged in recent years, graduates have been desperately struggling to find themselves suitable jobs.
Last year, more than 1,300 postgraduates rushed to apply for 30 vacancies to sell pork in Guangzhou, Guangdong province.
The number of university graduates in China will jump to 6.3 million next summer and they will face fierce competition for jobs despite the economic recovery from the global financial crisis, officials from the Ministry of Human Resources and Social Security said last week.