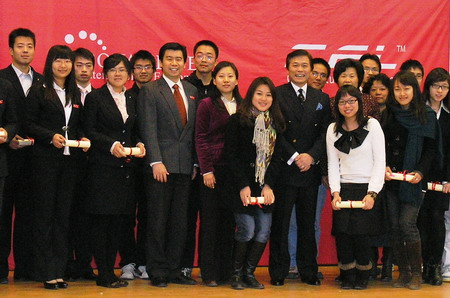 The winners and leaders of the CFL and guests invited to give award scholarships pose for a picture at Tsinghua University on November 19, 2009. [chinadaily.com.cn]
Award-winning China Future Leadership (CFL) delegates attended the fifth annual scholarship award ceremony at Tsinghua University on November 19, 2009.
Four hundred teachers and students from Tsinghua University also participated in the event.
The award project provided international exposures for visionary students in the process of communication between Chinese students and top universities in western world, said Frank Peng Ge, Managing Director of Boya Elite International.
Miss Feng Bo from Beijing University, winner of the first prize,said, "The CFL project has me a chance to communicate with the world leading universities and companies." while Mr. Kenneth Tsang, Chairman of the project, described it as a precious privilege for the Chinese prize winners in his presentation entitled "To Stand Out, Attitude is the Key".
"The globalization process has also produced a rapid spread of competing ideologies and facilitated rapid shifts in thinking," said Mr. Ge. "The CFL experience serves well as an engine to boost students in their strides for a brighter future."
The list of the 2009 China Future Leadership Project Scholarship Winners
First prize winner:
Feng Bo, Peking University
Second prize winners:
Zhang Xiaolu, Shanghai Jiao Tong University Guan Yue, Fudan University Liu Jingyi, Sun Yat-sen University
Third prize winners:
Li Jinchao, University of California, Los Angeles (UCLA)
Chen Ruichen, University of Michigan
Cui Shaowei, Peking University
Liang Minchen, Peking University
Zhang Xiaoming, Peking University
Zhang Haoran, The Hong Kong Polytechnic University
Wang Min, Fudan University
Liu Jieqiong, Nankai University
Guo Jiarui, Renmin University of China
Shang Yue, Renmin University of China
Xue Xinxi, Renmin University of China
Ye Huabin, Renmin University of China
Xiong Yu, South China Normal University
Zhang Shuai, Shanghai University of Finance and Economics
Chen Zhuojun, Guangdong University of Foreign Studies
Wen Congjun, East China University of Political Science and Law
For more information, please refer to the China Future Leadership Project official website http://www.ChinaFutureLeader.org