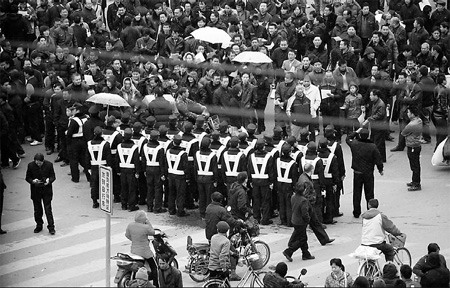 Police in Kunming, Yunnan province, control crowds in the city's streets following a protest on Saturday over the relocation of a market. Order was restored by Sunday, police said. [Liu Ranyang] 
Police in Kunming have detained more than 25 suspected organizers of a mass protest in which officers were pelted with bricks at the weekend.
At least 1,000 people blocked a busy street in the center of the Yunnan provincial capital on Saturday in a dispute over the closure of a local market.
The alleged organizers were detained after throwing bricks at police officers, Yao Zhihong, spokesman for Kunming police, said yesterday.
"We detained them as their behavior disrupted social order. They are now being investigated," he said.
He added that several police officers were hurt in the standoff, while damage was also done to public property.
Related readings:


 Protest against suspected lead pollution continues


 Driver cuts finger to protest 'police trap'


 Beijing protest over disabled rights


 Student runs naked to protest power cuts


 Residents protest over sewage plant stench
The incident came after more than 200 traders objected to a government order to close Luoshiwan Market and complained they had not received adequate compensation, Yao said.
According to initial investigations, he said the protest had been "planned".
More than 200 merchants from Luoshiwan Market and the Yunfang Business Zone marched on the headquarters of the provincial people's congress on Friday to deliver a 330-signature petition to the arbitration office, he said. Later that day, the organizers planned Saturday's protest at a toy mall in Yunfang.
Luoshiwan is known as one of the top 10 wholesale markets in China, boasting units for more than 10,000 traders. Local authorities reportedly have plans to close the market this month and relocate businesses to an area about 10 km away.
The move is aimed at promoting urban function, Kunming authorities said.
"I applaud the government's move to relocate the market as it always affects traffic in the area," a Kunming resident, surnamed Li, told China Daily yesterday.
However, Luoshiwan Market merchants say they have the right to ask for government compensation for the relocation.
"The new market location is not ideal for business and I am afraid it will not be a good choice for merchants like us in the coming five years," said a merchant who refused to be named yesterday.
Bao Wensheng, chief of the city's Xishan district business affairs bureau, said the government carried out events to encourage merchants to move before the Nov 30 deadline.
"We have given every merchant who wants to relocate 300 yuan in compensation," China National Radio quoted him as saying yesterday. "The government also arranged five free buses for merchants to commute between the old and new markets from Nov 1 to 5, and helped merchants pick new units by drawing lots."