GUANGZHOU: More than 10,000 migratory birds are being illegally slaughtered every day in Guangdong province and ending up on dinner tables.
The bodies of the birds, which annually fly from northern China to spend the winter in the tiny coastal Jijiazhen township in Leizhou peninsula, are cooked at local restaurants, or made into cured meat as special local products, according to a report from China News Service Thursday.
"Many of the birds being slaughtered are under the State's strict protection," a local resident surnamed Chen from the town's Beizai village was quoted as saying.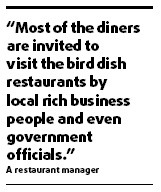 He estimated more than one million migratory birds are killed in the town every winter.
"Because of over-hunting, fewer and fewer migratory birds are flying to the town in winter," Chen said.
Along a special food street, more than 10 restaurants offer bird dishes as their major attraction to diners.
And most of the restaurants enjoy brisk business when winter arrives.
Xu Yuanxing, a local environmental protection activist, said Jijiazhen, which used to be a heaven for the migratory birds, has now become a hell for them.
"I hope concrete and effective measures can be taken immediately to protect the birds," Xu said.
Related readings:


 Slient home of Birds: Yellow River delta in Shandong


 12-year-old boy finds friends in three wild birds


 Bad environment makes birds good singers


 Bird, planes and trains no challenge for Chinese mimic
Wu Zhongwen, deputy Party secretary of Jijiazhen township, admitted hunting migratory birds is active in the town despite efforts to fight the illegal practice.
In addition to special campaigns, the township government produces banners and posters urging local residents to protect wild birds, Wu said.
"Requiring all the villagers who are still living in poverty to stop hunting birds is still very difficult at present," he added.
Xian Huaxiong, director of Zhanjiang Forestry Bureau of Public Security, said his bureau annually launches special campaigns to fight illegal bird hunting and trafficking.
"But the results haven't been satisfactory," Xian said.
Many restaurants quickly re-open and continue to sell the bird dishes when police officers leave, according to Xian.
A restaurant manager from Jijiazhen town said he closed the door and hid all the birds when police officers arrived.
"Most of the diners are invited to visit the bird dish restaurants by local rich business people and even government officials," said the manager who refused to be named.
Huang Huijian, an associate professor from the research institute of endangered species in southern China under Guangdong Academy of Sciences, urged a new local law to protect the province's migratory birds and punish those who illegally hunt and sell the birds.