China is raising the retail cost of electricity today by 0.028 yuan (0.4 cents) per kWh.
While the hike will impact industries that use large amounts of power, the cost for residential users will not change, the National Development and Reform Commission (NDRC) said Thursday.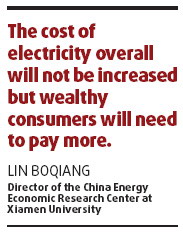 And the price of natural gas will be left unchanged this year, said Cao Changqing, price department director at the NDRC, which is the country's top economic planner.
The change in the retail price of electricity should not cause inflation because its impact on the manufacturing sector will only hit a small number of heavy users, such as the non-ferrous metal industry, the building materials industry and the chemical industry, said Cao.
"For instance, based on our calculations, the cost of producing a ton of electrolytic aluminum will be increased by 406 yuan, and that of ferrous alloy will be raised by 140 yuan," said Cao.
Lin Boqiang, director of the China Energy Economic Research Center at Xiamen University, shared Cao's view. He said the price rise will only hit a relatively small group of companies.
"The price rise has already been put off for more than a year since the government increased the on-grid power rates last August," said Lin.
Related readings:


 Beijing to hike non-residential water prices


 Housing prices expect slight dip in Q4


 Private gasoline prices defy national hike


 China raises gasoline, diesel prices


 NDRC: Natural gas price will not change
When the NDRC last hiked on-grid electricity tariffs, it left the retail power price unchanged in a bid to protect industry during the economic downturn.
The country's two electricity distributors, State Grid Corp of China and China Southern Power Grid Co, incurred losses of about 40 billion yuan in the first eight months after power prices were left unchanged, Li Ying, chief economist with State Grid's energy research institute, told China Daily.
"The power grid companies have been subsidizing electricity consumers," said Li.
The price hike will pay for sulfur-scrubbing equipment at coal-fired power plants, according to Cao.
Sulfur-scrubbing equipment is used to remove sulfur dioxide emissions from smoke discharged from the plants.
Currently, power producers pay for the running of the pollution-busting technology to the tune of 0.015 yuan per kWh.
Cao said each province will need to work out its own progressive pricing for residential consumers next year but the cost of electricity for householders will remain low.
Sichuan, Zhejiang and Fujian provinces have already experimented with such systems. Their plans will be submitted to the NDRC and discussed at public hearings before they are implemented.
"There is still a lot of work to do, so it is not likely to be carried out until the second quarter of 2010," Cao said.
Lin, from Xiamen University, applauded the new pricing mechanism, saying it will improve energy efficiency while protecting the basic needs of low-income consumers.
"The cost of electricity overall will not be increased but wealthy consumers will need to pay more. This better reflects the principle of social justice," Lin said.
China's power consumption in October rose 15.87 percent year-on-year to 313.42 billion kWh, up for the fifth consecutive month since June.