China renewed a call Thursday for a cooperative international effort against Somali piracy by defining patrol areas in the Horn of Africa.
In its call for teamwork, officials deftly parried appeals for China to lead the anti-piracy mission.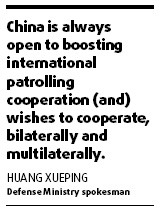 China and other countries in Somali waters will "strive to reach consensus" on defining areas of patrol, said Senior Colonel Huang Xueping, a Defense Ministry spokesman.
But he also said that "China is always open to boosting international patrolling cooperation (and) wishes to cooperate, bilaterally and multilaterally, with all nations involved" in response to a recent call for China to take a leading role in the dangerous waters.
The appeal to China was made by Commodore Tim Lowe, the deputy commander of the Combined Maritime Forces.
"My hope is that perhaps in April or May next year, we would see China taking on that lead coordinator role for the corridor, to provide protection in the corridor," he told Reuters at an international anti-piracy seminar in Hong Kong last week.
Related readings:

 Somali pirates freed Spainish boat


 French navy captures 12 pirates off Somalia


 UAE denies reports on Somali pirates' abduction of vessel


 EU: Somali pirates seize cargo ship with 22 crew


 Somali pirates ask $7m to free UK couple
The corridor Lowe referred to is a 5-mile-wide ocean strip patrolled by international warships.
But Rear Admiral Yin Zhuo, director of a naval expert committee, said "the UN is the best candidate to take the leading coordinating role". He added that China has yet to have formal relations with NATO, a key member of the anti-piracy mission.
A large number of Chinese vessels navigate through the waters off the Horn of Africa, carrying products back and forth from China. The high count has made them a target for piracy. Last month, a bulk carrier with a crew of 25 was captured.
Navy Senior Captain Hu Gangfeng stressed it was important to take a more "proactive" role and to bolster international naval cooperation.
"We have to fulfill our international obligations and act as a responsible country," said Hu, deputy-director of the Naval Bureau, at the Hong Kong seminar.
But in New York, China called on the international community on Wednesday (local time) to work toward an "integrated solution" to the piracy, according to Xinhua.
"An effective fight against Somali piracy still awaits an integrated solution," Liu Zhenmin, China's deputy permanent representative to the UN, told a Security Council meeting.
"We believe that to put an effective end to pirate attacks, the international community should expand maritime escort operations and other countries should also improve how they carry out maritime escort operations," he said.
China has proposed that all nations operating in the Horn of Africa "define areas of responsibility". Liu said it will improve escort operations and lower the chances of pirates hijacking vessels.
Defining areas for each nation will "significantly increase" the efficiency of the anti-piracy mission, Yin said.
"When each country takes care of a specific area, density of the patrolling mission will grow," Yin said. But "the key is the coordination".