Doctors have successfully separated conjoined twin sisters after a marathon operation in Hubei province yesterday, the Wuhan Evening News reported on November 18.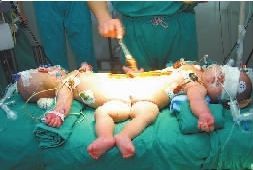 Conjoined twins are under separation surgery at Union Hospital in Wuhan, Hubei Province Nov 17, 2009. [Wuhan Evening News]
Thirty-three medical staff at Union Hospital in Wuhan, the provincial capital, spent 13 hours separating the babies who were joined at the hip bone and shared a number of organs, according to medics.
The sisters, who were from Yunmeng county, had their own gullet, stomach, small intestine and cadre system, but one partial large intestine and rectum.
Tang Shaotao, the director of the pediatrics division of Union Hospital said: "The operation involves many divisions including anesthesia, pediatrics, plastic surgery, and orthopedics. The surgery is divided into two. The first operation is to separate the conjoined babies safely and the second aims to restore the organs."
Three out of four conjoined babies are connected by chest and abdomen, while the Yunmeng conjoined sisters only have one hip bone, which happens one in every 200 million births, according to the report.
"It's a relief to see two carts coming out of the operating room," said Yang Wei, the mother of the twins who was quoted in the article.