NANJING: Two months after an east China university banned public kissing and canoodling on campus, the petting police are still on patrol -- despite a heated debate online and on-campus that shows no sign of abating.
About 100 student guards wearing red armbands are employed by the Nanjing Forestry University authorities to cool down public displays of affection among students on the campus in Nanjing, Jiangsu Province.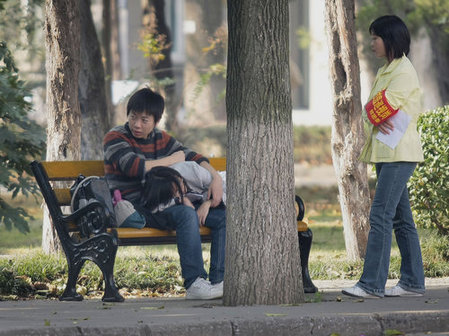 A member of a "campus picket" responsible for warning student lovers against physical intimacy like kissing and embracing in public stops in front of a student couple at the Nanjing Forestry University November 6, 2009. The picket is a work-study program of the university in which members wear red armbands and stop students from engaging in public displays of affection. The university authority said the picket is very helpful to prohibit "uncivilized actions" on campus. [CFP]
"My boyfriend and I were interrupted by 'a red armband' as we were sitting together on campus. The guy came over and warned us to behave. I really can't bear this," said a student under the name Dian Dian, on the popular chat portal, Xici.net.
Dian Dian's protest echoes the majority of opinion posts found on forums at leading Chinese websites, such as Sina.com and Sohu.com. Many say that displays of affection break no rules.
A blog by "Suiyueliuhen" on Sina.com said brazen behavior on campus did indeed embarrass passers-by, but the school could better prevent it through education on etiquette, rather than infringing on the right to kiss.
Lin Aijun, an associate professor on law at Guangzhou-based Jinan University, said the monitoring did not violate people's rights, because the school had administrative rights to restrict student behavior on campus. The red armbands only advised students against their behavior without taking any mandatory measures.
The university authorities have declined to make any public comment, but they show no sign of easing the ban despite a rash of media reports.
A school official who asked to remain anonymous said university officials generally applauded the move to keep the campus clean of "uncivil manners."
He said it has been four years since red armbands appeared on campus to monitor and stop uncivil behavior such as spitting and trampling the lawns.
"Each red-armband guard does a two-hour shift everyday to monitor uncivil manners. The part-time work can earn me 100 to 200 yuan (US$14.6 to 29) a month from the school," said a student surnamed Zhou.
"It's difficult to set a standard to judge what kinds of behavior should be stopped. But some acts are surely unacceptable like sitting or lying on another's legs, hugging or kissing too long," she said.
She admitted it was embarrassing to interrupt young lovers. "It can be awkward. They say we bother them."
She said the interruptions sometimes led to angry confrontations. On one occasion, school security guards were forced to intervene to prevent violence after a young man was disturbed with his girlfriend.
The red armbands' work has won some support from the students.
"Long kisses and other excessive displays are inappropriate for campus. They embarrass passers-by. University is a place for education. Such behavior should be stopped, just like other displays of bad manners, such as spitting," said student Lin Yan.
Chen Mingliang, another student, said he was unfazed. "I don't think the red armbands' monitoring of manners hurts people's rights. Manners should be monitored. Campus is a public place," he said.
But student Wang Fang said the school should not restrict the freedom of young lovers, just because some people felt embarrassed their behavior.
"The school authorities should learn to respect students' rights and freedoms," she said.
"Kissing isn't like smoking, which pollutes the air and harms the health of others. People can choose to ignore kissing," said student Chen De.
A junior in the school who called himself A Wei said courting couples simply went outside the campus to be with each other.