Beijing on Tuesday urged Washington to stop secessionists from using the US soil to separate Tibet and Xinjiang from China.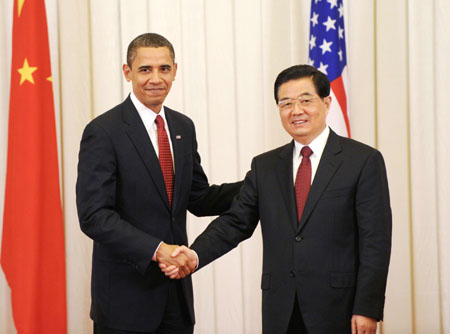 Chinese President Hu Jintao (R) shakes hands with visiting US President Barack Obama after they meet the press at the Great Hall of the People in Beijing on Nov. 17, 2009. [Xinhua] 
President Hu Jintao told visiting US President Barack Obama that respecting each other's core interest and major concern is a precondition for both countries to establish strategic trust.
"China approves of President Obama's repeated reiteration of the one-China principle," Hu told reporters in the Great Hall of the People after meeting with his US counterpart there.
"We hope the US understand and support China's government's stance and concerns, properly manage the Taiwan issue, and disallow any 'pro-Tibet independence' and 'the East Turkistan' forces to commit to any moves on the American soil to separate China," Hu said.
The East Turkistan has long sought to separate Xinjiang from China.
Obama stressed that the US recognizes and respects China' sovereignty and territorial integrity on Taiwan and other issues.
He said Washington is not intent to interrupt China's core interests.
Obama reiterated that the US follows its one-China policy and abides by the principles of the three Sino-US joint communiqués. Washington's one-China policy is solid and lasting, he added.
Obama also said Tibet is part of China.
"We did note that while we recognize that Tibet is part of the People's Republic of China," Obama said at a Joint Statement with Hu. "The United States supports the early resumption of dialogue between the Chinese government and representatives of the Dalai Lama to resolve any concerns and differences that the two sides may have."
Apart from enhancing the strategic mutual trust, Hu suggested both countries keep close high-level exchanges and dialogues on all other issues.
At Obama's invitation, Hu will visit the US in next year.
Hu also called for more bilateral cooperation to jointly deal with "all sorts of" regional and global challenges.
Obama also said international cooperation is necessary for the world to face all global challenges.
He said the current US government, which is quite different from its predecessors in foreign policy, supports dialogues between nations and multilateralism.
The US does not seek to contain China, as it welcomes a strong, prosperous, and successful China with bigger role in international affairs. He said the US appreciates China's effort to help resolve the nuclear issues of Iran and the Korean Peninsula.
The 21st century is different from the 20th century, Obama said. Inter-state relations should not be a "zero-sum game" and countries should move beyond the "Cold War mentality".
Obama, 48, is the first US president who started a state visit to China within the first year since taking office.
He arrived in Shanghai on Sunday, and then flew into Beijing late on Monday.
After meeting Hu, Obama visited the Forbidden City.
Obama will meet with Chinese Premier Wen Jiabao on Wednesday and visit the Great Wall in the afternoon.
His team will then leave for the Republic of Korea.