Shanghai: Visiting US President Barack Obama said here on Monday that Washington does not seek to contain China.
"We do not seek to impose any form of government on any other nation," Obama said, noting access to information and political participation are universal rights that guide America's openness.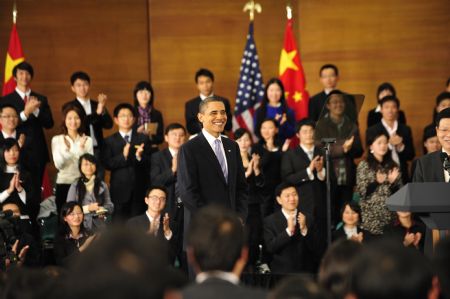 US President Barack Obama(C) arrives at the Shanghai Science and Technology Museum to deliver a speech at a dialogue with Chinese youth during his four-day visit to China, Nov. 16, 2009. [Xinhua] More photos
US would not seek to contain China, Obama told an audience of more than 500 local youths, many of whom students from Fudan University and Tongji University.
The China trip is also part of his first to Asia as president. In his wide-ranging speech in Japan on Saturday, Obama said he would welcome, not fear, a robust China as a powerful partner on urgent challenges.
Full Coverage:


 Obama Visits China
Related readings:


 Obama leaves Shanghai for Beijing to continue China tour


 Obama: China and US should jointly reduce world's conflicts


 Obama says economic recovery, climate change top agenda


 Obama: US not to contain China


 Obama: China, US 'comprehensive' partners


 Obama talks with Chinese youth


 What is your expectation of Obama's visit to China?
"The rise of a strong, prosperous China can be a source of strength for the community of nations," he told 1,500 prominent Japanese.
The ongoing event attracted for more than 100 reporters, the large majority of whom from the US and the rest from China.
The meeting on the fourth floor of the Shanghai Science and Technology Museum was scheduled to last for 75 minutes, with Obama speaking for 15 minutes and the an hour-long question and answer session.
Before Obama's speech, Jon Huntsman, US ambassador to China said, "the timing could not be better" for increasing bilateral relations at the 30th anniversary of diplomatic relations ties.
Obama met local leaders in the morning. He arrived at Shanghai Pudong International Airport just after 11 pm last night.
The 48-year-old, the first US president to visit China within the first year of taking office, will fly to Beijing immediately after meeting the youths.
He is expected to arrive in the nation's capital at around 4:30 pm. President Hu Jintao will host a state dinner for Obama at the Diaoyutai State Guesthouse in the evening.