China's largest offshore oil producer CNOOC on Friday signed an agreement with Qatargas to buy more liquefied natural gas (LNG) to meet the rising domestic demand.
Both parties signed a memorandum of understanding (MOU) on Friday, under which Qatargas will supply an additional 3 million tons of LNG per year, said a CNOOC statement.
CNOOC is also planning to buy another 2 million tons of LNG from Qatargas annually, to further bolster its annual LNG purchase from the gas-rich country to 7 million tons, said the statement.
CNOOC last year signed an agreement with Qatargas to buy 2 million tons of LNG for 25 years.
The move will improve China's utilization of natural gas, a clean energy, and optimize the country's energy consumption structure, said CNOOC President Fu Chengyu.
China has now become a new center for LNG consumption, said Faisal Al-Suwadi, CEO of Qatargas. The Qatari company also opened its China representative office on Friday.
The company received its first cargo of LNG from Qatar in October. The cargo, of 216,000 cu m, arrived at CNOOC's Dapeng LNG terminal in Shenzhen in southern Guangdong province.
The LNG from Qatar will be offloaded to other terminals of CNOOC, including the existing one in eastern China's Fujian province and the soon-to-be operational one in Shanghai.
Currently, CNOOC is operating two LNG projects in Fujian and Guangdong. The company aims to have 50 million tons per year of LNG receiving capacity by 2020, Zhou Shouwei, deputy general manager of CNOOC, said in July.
China, which received its first LNG cargo in May 2006, plans to build more than 10 terminals on the east coast to meet a government target to double the use of natural gas in five years by 2010.
China's LNG imports rose to a record, of around 800,000 tons in September. Analysts said the figure would remain high during the rest of the year due to growing demand.
Analysts said compared with other energy such as oil and coal, China's natural gas consumption will see more rapid growth as the government is encouraging more use of clean energy.
China's second largest oil company Sinopec signed its first purchase deal for LNG with US oil major ExxonMobil earlier this month. The two companies entered into a preliminary agreement for the long-term supply of 2 million tons per annum of LNG from ExxonMobil's project in Papua New Guinea.
The LNG will be supplied to Qingdao, Shandong province, where Sinopec will build an LNG receiving terminal, said Wang Zhigang, senior vice-president of Sinopec Corp.
China and Australia struck their biggest trade deal ever in August as the world's two most valuable listed oil companies, ExxonMobil and PetroChina, agreed a $41-billion liquefied natural gas deal.
PetroChina will buy 2.25 million tons of LNG per year from the Gorgon LNG project in Western Australia.
The massive Gorgon LNG project operated by Chevron Corp, which owns a 50-percent stake, is located off Western Australia and has a proposed annual output of 15 million tons. Exxon and Royal Dutch Shell each own a 25-percent stake.
PetroChina is now building LNG terminals in Liaoning and Jiangsu provinces.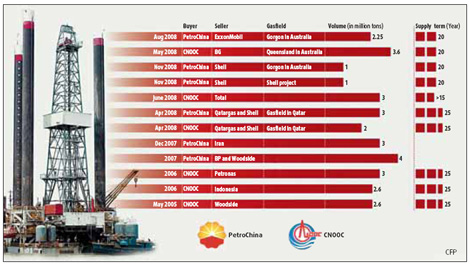 (China Daily 11/14/2009 page10)