The death toll rose to 21 in North China on Friday as storms continued to ravage the region.
The snowstorms left a trail of destruction that will cost more than half a billion dollars to repair, the Civil Affairs Ministry said on Friday.

A fruit market in Xingtai, Hebei province, is devastated by the heavy burden of continuous snow.[Huang Tao]
Heavy snow, which has not been seen in the region for decades, left 21 people dead in seven provinces, the ministry said on its website.
The number does not include deaths came in traffic accidents that were connected to the storms that began on Nov 9, the ministry said.
Related readings:


 Great Wall charming in snow


 Snow pear snow fungus sweet dessert


North China's vegetable prices soar due to snow


Gas station collapses amid heavy snow


Three die as school canteen collapses amid heavy snow


Jinan traffic police offer public tips for snow travel


Heavy snow causes school dining hall collapse, killing two
The deaths prompted the General Office of the State Council - China's cabinet - to issue a circular on Friday ordering local governments to check the safety of buildings used for schools, hospitals and seniors' homes.
The National Meteorological Center predicted on Friday that more snow will hit northwestern and northeastern China in the next three days.
The snowfall has been the heaviest in some areas since records began after the founding of the People's Republic of China in 1949. The ministry estimated that economic losses from the storm stood at 4.46 billion yuan ($652 million).
More than 7.5 million people have been affected by the storms that have caused the collapse of more than 9,000 buildings, damaged 190,000 hectares of crops and forced the evacuation of 158,000 people.
Almost 160,000 people had been stranded on roads or evacuated from their homes, the ministry's statement said.
Beijing, which lies at the heart of the affected area, has been hit by three successive dumps of snow that have caused havoc on roadways and forced the cancellation or delay of scores of flights.
But the impact of the snow has been more serious in the surrounding provinces of Hebei, Shanxi, Shaanxi, Shandong and Henan, where highways have been closed, schools shuttered and crews sent to rescue people from snowbound homes.
But, as bad as the weather has been, the situation is not yet as severe as it was last year when freak snow and ice storms hit parts of eastern and southern China - areas unaccustomed to snow and unprepared to deal with winter weather. The storms paralyzed key transportation systems as millions of migrant workers tried to head home for the Lunar New Year holiday.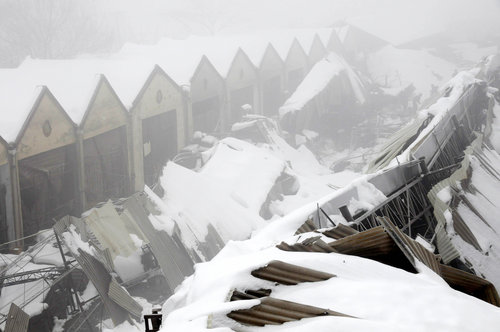 A fruit market in Xingtai, Hebei province, is devastated by the heavy burden of continuous snow.[CFP]
The chaos left more than 80 dead and caused billions of dollars in damage.
Most of the snow-hit areas of China turned sunny on Friday, but ice on roads was still causing problems.
In Shaanxi province, dozens of kilometers of highway between Xi'an and Shangluo was dotted with stuck vehicles.
On Friday, Shenyang Taoxian International Airport in Northeast China's Liaoning province, closed at 7 am and reopened at 1:20 pm - after the snow stopped.
In Hebei province, some major highways were closed early Friday before being reopened in the afternoon.
Moderate-to-heavy snow hit many parts of northeastern Jilin province on Friday. The provincial meteorological bureau is forecasting more tough times to come - saying the temperature will fall by eight to 10 degrees Celsius in the coming week. The provincial observatory on Friday urged residents to prepare for heavier snow in the next two days.