Alternatives should be considered before a hydropower project in the Yangtze River's conservation area moves ahead and endangers rare fish, scientists said.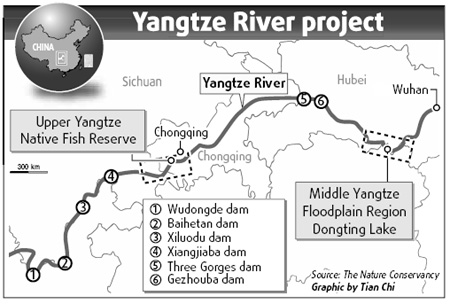 The proposed site for the Xiaonanhai dam is in the experimental zone of the Upper Yangtze National Nature Reserve for Rare and Endangered Fish, triggering criticism from environmentalists and scientists.
Related readings:


 Building dam will not hurt other nation's interests


 Three Gorges Dam bans dangerous cargo ships


 Cargo ship with chemicals sinks in Yangtze River

"The project is very risky ecologically and economically," said David L. Harrison, former chairman of the Nature Conservancy, a non-governmental organization based in the United States.
Chinese and foreign environmentalists and scientists are trying to halt the Xiaonanhai dam, upstream of Chongqing, which will further damage the ecological environment of the nation's longest river.
"This reserve is considered by many fish experts as the last habitat for some of the endangered and local fish species," said Ma Jun, director of the Institute of Public and Environment Affairs.
Sudden changes in water temperature, depth, oxygen content and current speed can alter a river's entire ecosystem, bringing challenges for the animals and plant life it supports.
"For those fish that migrate and breed along free-flowing rivers, such as the Chinese paddlefish, an uninterrupted migration channel is vital," said Cao Wenxuan, fish expert with the Chinese Academy of Science, adding that a dam at Xiaonanhai would completely block the migration channels for these fish.
Harrison said Chongqing can shift its planned investment in the project to four other dams - Wudongde, Baihetan, Xiluodu and Xiangjiaba - enabling it to share electricity and profits, and preserve the fish reserve as well.
He roughly calculated that the potential power capacity of the four dams would be 36 gigawatts (gW) every year. Present capacity is 24 gW and the additional power is enough to meet Chongqing's demand.
The Xiaonanhai hydropower plant would generate 1.75 gW, a fact promoted by the municipal government as a solution to the region's power problems.
Harrison said the four dams would lose their flood control function, and a middle Yangtze floodplain region and a possible future wetland reserve could be formed.
To solve problems like migration and environmental protection in the affected areas, Harrison suggested establishing a compensation fund from profits of the four stations.
"An integrated policy proposal will be finished by late spring and will be delivered to key decision makers in the summer next year," Harrison said.
The Xiaonanhai plan was first put forward in 2006, with construction originally scheduled for 2007. It has since been in limbo, as China's regulations do not allow such projects to be built in conservation areas.