The United States will push for more student exchanges with China over the next several years, the US ambassador said yesterday.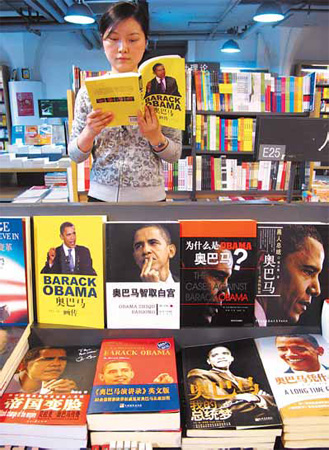 Books about US President Barack Obama grab the attention of a reader in a book store in Shanghai on Tuesday, ahead of the president's visit to China next week. [Gao Erqiang] 
Jon Huntsman said the measure is intended to foster mutual understanding in the young generation, something US President Barack Obama will highlight during his trip to China next week.
Related readings:


 Shanghai youth: Let's get personal


 Obama visit buoys green scrips


 Obama's China trip fuels fresh hope


 China expects positive results from Obama's visit


 Obama will push economic rebalancing on China trip
College students were happy with the news, which could signal a deregulation of tight US enrollment and visa policies on Chinese students.
"You're going to hear more about opportunities for students to take advantage of opportunities here in China, and American students coming here," Huntsman told Chinese reporters at a press briefing yesterday.
"Already there are probably 70,000 or 80,000 Chinese students in the United States, but it will be great if we could, over the next several years, enhance the number of students going back and forth," he said, without giving specific figures of the expansion.
Strengthening interaction between students is the most basic way to develop trust between the two nations, which is a pillar of their future in "the world's most important bilateral relationship", Huntsman said.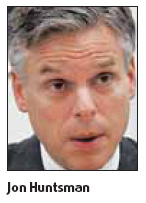 And Obama "will be the first to point out that good relationships are driven by people who better understand one another and therefore have a deeper sense of trust", he said.
Obama is scheduled to arrive in the financial hub of Shanghai on Sunday to start his maiden China tour.
In Shanghai, he will give a speech to youth representatives and discuss with them the future of the two countries' ties.
According to US official figures, about 80,000 Chinese students were in the US last year, a nearly 20 percent rise from 2007.
US students heading for China also surged by more than 25 percent in the 2006-07 academic year, surpassing 11,000.
For Chinese students, the new move is increasing their chances to study in the US.
A student surnamed Yao, a graduate in her last year at Beijing-based University of International Business and Economics, said the news is very "exciting" for many on campus.
"English majors like me are willing to study in English-speaking countries, especially the United States. But the US visa and scholarship policies were always too tight. We hope we could benefit from the new policy of the Obama administration."
Huntsman said that while serving as governor of Utah before taking up his current post, he found many local schools adding Chinese to their list of language courses.
"And many states in America are doing the same thing," he said.
Zhou Jiang, 31, a post-doctoral student at University of California, Santa Barbara, who returned to China after graduation, said such a policy will enable the young generation in the US to adjust their misunderstandings of China.
"Based on my experience, contacts and friendly emotions are the most effective way to reach that goal."
Dalai meeting opposed
Also yesterday, the Chinese Foreign Ministry said it firmly opposes foreign leaders meeting the Dalai Lama. A White House official said earlier this week that Obama would be ready to meet the monk "at the appropriate time".
"There are both huge shared interests and deep gaps between Beijing and Washington and we cannot expect the gaps to disappear overnight," said Pang Zhongying, an international relations expert with Beijing-based Renmin University of China.
"What we can do is to lead the positive side to dominate the relations and that needs efforts from both sides."