SINGAPORE: President Hu Jintao kicked off his official visit to this city state Wednesday evening, after concluding a trip to neighboring Malaysia.
It is the first time for a Chinese head of state to visit this Asian country in 15 years.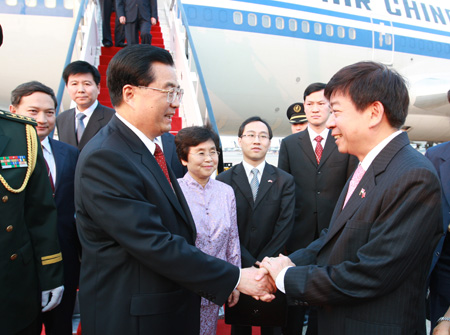 Chinese President Hu Jintao (L, front) is welcomed upon his arrival in Singapore, Nov. 11, 2009. Hu Jintao arrived here on Wednesday for a state visit and the Economic Leaders Meeting of the Asia-Pacific Economic Cooperation (APEC), scheduled for Saturday and Sunday. [Xinhua]

Hu is scheduled to hold talks with President Nathan and Minister Mentor Lee Kuan Yew late Wednesday, and meet Prime Minister Lee Hsien Loong on Thursday, said Chinese Assistant Minister of Foreign Affairs Hu Zhengyue at a news briefing last Friday.
"President Hu will exchange views with Singaporean leaders on deepening mutually beneficial and cooperative ties to expand cooperation in key sectors of the two countries, and discuss international and regional issues of common concern," he said.
Special coverage:
17th APEC Leaders' Week
Related readings:


 Facts & Figures: Singapore APEC meetings


 China-Singapore ties are at best period in history


 Hu Jintao meeting KMT honorary chairman 'natural': spokesman


 Hu: Deepening strategic co-op benefits countries, region


 Malaysia hails Hu's visit a 'milestone' in bilateral ties
China and Singapore set up diplomatic ties 19 years ago, and since then bilateral cooperation has expanded steadily in various sectors.
Singapore is a key cooperation partner of China. Bilateral trade reached US$52.4 billion in 2008, up 10.5 percent over the previous year. In October last year, the two countries signed a free trade agreement, which came into force two months later.
In Singapore, Hu will also attend the Economic Leaders Meeting of the Asia-Pacific Cooperation (APEC) on weekend and elaborate China's proposition on economic, trade and other major issues.
Under the theme "Sustaining Growth, Connecting the Region," leaders at the Singapore meeting will address the major issues related to overcoming the global financial crisis and promoting a sustainable economic recovery in the post-crisis world.
Established in 1989, APEC has 21 members, which account for about 41 percent of the world's population, 56 percent of the world GDP and about 49 percent of the world trade.
APEC's 21 member economies are Australia, Brunei, Canada, Chile, China, China's Hong Kong, Indonesia, Japan, Republic of Korea, Malaysia, Mexico, New Zealand, Papua New Guinea, Peru, the Philippines, Russia, Singapore, Chinese Taipei, Thailand, the United States and Vietnam.