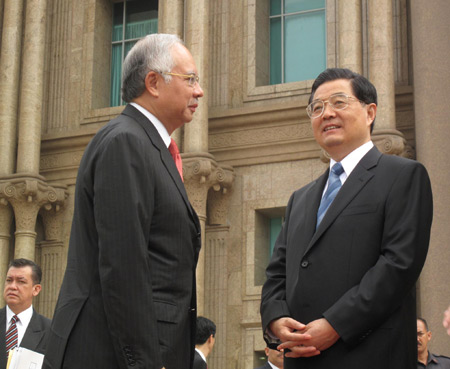 Malaysian Prime Minister Najib Tun Razak (left) welcomes Chinese President Hu Jintao outside Razak's office in Malaysian capital Kuala Lumpur November 11, 2009. [China Daily/Zhao Huanxin] 
KUALA LUMPUR, - Chinese President Hu Jintao and Malaysian Prime Minister Najib Tun Razak met here Wednesday to discuss further development of the strategic and cooperative ties between China and Malaysia.
The two leaders will also exchange views on other issues of common concern, Chinese diplomats said.
President Hu arrived in the Malaysian capital of Kuala Lumpur Tuesday afternoon for a state visit, the first by a Chinese head of state in the past 15 years.
Related readings:


 China's APEC role grows in stature


 APEC 20th Anniversary High-Level Symposium opens in Singapore


 Hu meets with Malaysia's Supreme Head of State


 Malaysia hails Hu's visit a 'milestone' in bilateral ties

"To deepen China-Malaysia strategic cooperation under the new circumstances serves the fundamental interests of the two countries and peoples and contributes to peace, stability and prosperity of the region," said the Chinese president in a written statement issued at the airport upon his arrival Tuesday.
"I hope this visit will help enhance mutual understanding and friendship, strengthen mutually beneficial cooperation and take China-Malaysia strategic and cooperative relations to a new level, " he said.
China-Malaysia relations have developed smoothly since the two countries established diplomatic relations 35 years ago, with frequent exchanges of high-level visits, increasing political trust and fruitful cooperation in trade, energy and infrastructure.
Malaysia has become China's largest trading partner among members of the Association of Southeast Asian Nations (ASEAN).
The two-way trade between the two Asian countries reached 53.47 billion U.S. dollars in 2008, two years ahead of a target of 50 billion U.S. dollars set by Chinese and Malaysian leaders.
The two countries have also worked together to promote cooperation in East Asia and maintained coordination to deal with the international financial crisis.
Later in the day, Hu will fly to Singapore for a state visit and to attend the informal leadership meeting of the Asia-Pacific Economic Cooperation (APEC) scheduled for November 14-15.