A rising number of extreme storms and droughts are expected to hit the Yangtze River Basin in the coming decades, the result of rising temperatures globally.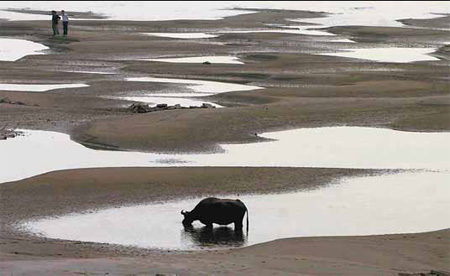 The ebb of the Yangtze River makes it hard for a water buffalo to enjoy a bath in Wuhan, Hubei province, last month. [Chen Liang] 
The basin, home to 400 million people, is an economic powerhouse and the site of the country's largest port and city, Shanghai.
In a report released yesterday, environmental group WWF said climate change over the next 50 years would inflict more potentially disastrous weather on the affluent area.
"Extreme climate events such as storms and drought will increase as climate change continues to alter our planet," said Xu Ming, the lead researcher of the report.
Other contributors included experts from the Chinese Academy of Sciences and the China Meteorological Administration.
"Given the complexities and uncertainties associated with climate change, we should first consider adopting a 'no-regrets' strategy, which doesn't require more money. If we take the right steps now, the measures will pay for themselves," he said.
Specific measures include strengthening existing infrastructure, such as the power supply and transportation, as well as river and coastal dike reinforcement.
Data collected from 147 monitoring stations across the 1.8-million-sq-km basin, including Shanghai and part of Jiangsu and Zhejiang provinces, shows temperatures rose by 0.33 C during the 1990s.
The warming trend accelerated this century. Findings show that from 2001 to 2005, the basin's temperature increased an average of 0.71 C.
Lower water levels will reduce the number of aquatic birds in the central and lower Yangtze while climate change strips wetland ecosystems of important resources.
"The report is an important symbol of China's commitment to fighting climate change," said James Leape, director general of WWF-International.
"Beyond setting out the vulnerabilities, the Yangtze assessment also underlines how investment in climate change adaptation safeguards the continuing functioning of a landscape vital to nearly half a billion."